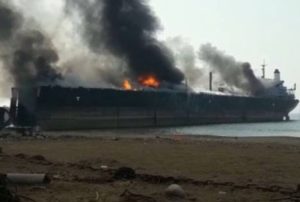 An explosion at a Pakistani shipbreaking yard that claimed the lives of more than two dozen workers is believed to have been caused by sizable amounts of smuggled oil that caught fire, local reports said.
Investigations from the prosecutors and Pakistan's ministry for shipping showed that during the dismantling of the oil tanker, recognised as the 149,235-dwt and 1982-built Aces, there were 132 tonnes of furnace oil, 27 tonnes of diesel oil, 1,100 tonnes of sludge and 30,000 tonnes of lubricant oil.
The large quantity of lubricant oil is believed to be part of a smuggling scheme for illegal import of oil products into the country, according to the investigation report.
"A huge quantity of lubricants smuggled by the shipowner had caught fire due to mishandling of work managers," Hasil Khan Bizenjo, minister of ports and shipping, was reported saying.
"According to the customs rules and regulations, decommissioned vessels are only allowed to carry a fixed quantity of oil required for their voyage from a port of departure to Gadani shipbreaking yard in Pakistan," he said.
"Businessmen acquire decommissioned ships for scrap from different parts of the world and bring them to the UAE where they are filled with lubricants which are then smuggled into Pakistan," he added.
On 1 November, a blast occurred in the fuel tank of the oil tanker, which was moored in Gadani, 45km northwest of the port city of Karachi, Pakistan.
The investigation also found many safety lapses and dire working conditions for the shipbreaking workers at the Gadani yard. Work at the yard has stopped after the accident and will be resumed in the beginning of next week.
At last count, at least 26 people died from the Aces explosion, where the raging fire burnt for four days.
Copyright Ships & Ports Ltd. Permission to use quotations from this article is granted subject to appropriate credit given to www.shipsandports.com.ng as the source.