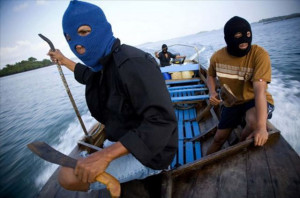 A Japanese-owned bulk carrier was able to thwart an attack on Sunday in the Sulu Sea off the Philippines marking the latest incident in an area where the Islamist militant group Abu Sayyaf has been kidnapping crews for ransom.
According to incident report from the ReCAAP Information Sharing Centre, the Japanese bulk carrier Kumiai Shagang was "attacked by pirates or militants"" on November 20 in Sulu Sea, north of Tawi-Tawi Island in the Philippines. "The bulk carrier thwarted attack by anti- pirates maneuvering, vessel continued voyage from Port Hedland, Australia to Qingdao, China," the ReCAAP report said.
AIS data on Tuesday showed the 179,000 dwt capesize bulk carrier continuing its voyage to Qingdao.
With this latest attack, ReCAAP has expressed "deep concern" over the uptick in crew abductions since March and the apparent shift towards vessels of larger tonnage.
"The ReCAAP ISC is deeply concerned about the situation of abduction of crew from ships while underway in the Sulu-Celebes Sea and eastern Sabah region. Since March 2016, there has been 11 incidents with nine actual incidents and two attempted incidents occurred in the area. Most of the incidents are claimed by the terrorist group of the Philippines Abu Sayyaf Group (ASG). 44 crew were abducted and 11 crew among them are still in captive.
"Since October 2016, the perpetrators have begun to target ships of larger tonnage (Dong Bang Giant 2, Royal 16, Southern Falcon and Kumiai Shagang). Nonetheless, the latest attempted incidents of Southern Falcon and Kumiai Shagang show the vigilance of the crew and effective activation of anti-piracy measures had successfully prevented boarding by the perpetrators."
In late October, Indonesia resumed some coal shipments to the Philippines following a months-long-halt after a string of hijackings by suspected members of Abu Sayyaf, based in the southern Philippines, in which several Indonesian sailors were taken hostage.
Copyright Ships & Ports Ltd. Permission to use quotations from this article is granted subject to appropriate credit given to www.shipsandports.com.ng as the source.