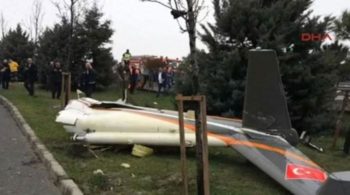 Five people were killed including a number of Russians when a privately-owned helicopter crashed in Istanbul on Friday, the provincial governor said.
Turkish media speculated that foggy weather may have caused the crash.
Two pilots and five passengers were on board the Sikorsky S-76 helicopter owned by Turkish conglomerate Eczacibasi, the private Dogan news agency said.
"According to initial information, five died," Istanbul Governor Vasip Sahin told reporters.
Head of the conglomerate, Bulent Eczacibasi, confirmed in televised comments that "four Russian guests" were on board the aircraft as well as a company executive.
State media and other reports said the helicopter hit a television tower but Sahin said he could not confirm that, adding investigations were taking place.
Turkish media images showed the helicopter in pieces and thick black smoke as rescue teams continued their search in Buyukcekmece, a western district of Istanbul.
The helicopter had taken off from the main Istanbul Ataturk airport and was on its way to another district of the city, state-run news agency Anadolu said without giving more detail.
Istanbul has seen thick layers of fog in the past few days causing disruption to travel with flights and ferry services cancelled earlier this month.
The crash came as Turkish President Recep Tayyip Erdogan was due to meet his Russian counterpart Vladimir Putin on Friday in Moscow.