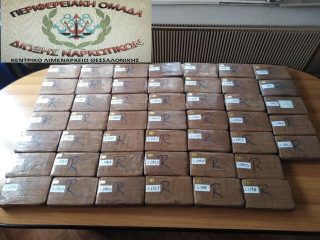 Greek authorities have seized almost 52 kilos of cocaine hidden in a container in the Port of Thessaloniki.
The drugs were concealed in the refrigeration system of a container loaded with bananas from Latin America.
The Hellenic Coast Guard cooperated with the port authority's drug enforcement unit to detect the narcotics with the help of K9 units and X-Ray devices, the coast guard said.
According to the service, a total of 47 packages containing 51.9 kilograms of cocaine were uncovered.
The refrigerating unit in which the drugs were found was seized as part of the ongoing investigation.
It was not revealed on which ship the cocaine-laden container arrived.
The Greek drug bust comes on the back of German authorities reporting the seizure of 4.5 tons of cocaine, worth USD 1.1 billion, at the Port of Hamburg. The operation marked the country's largest cocaine interception ever.