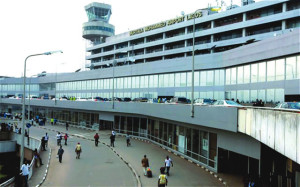 Officials of the National Drug Law Enforcement Agency (NDLEA) have discovered 6.158kg of heroin abandoned at the Murtala Mohammed International Airport (MMIA) Lagos.
The consignment which originated from Pakistan was left unclaimed on the conveyor belt at the arrival hall during the inward screening of passengers on Etihad Airways flight.
The agency said on Friday two suspected drug traffickers were also apprehended at the airport while attempting to smuggle 2.035kg of cocaine concealed in cassava flour to Nairobi, Kenya and 2.485kg of cannabis to Qatar.
NDLEA commander at the airport, Ahmadu Garba disclosed that the abandoned heroin was hidden inside a bag of clothes.
According to him, Oluwasheto Abiodun, 39 year old electrician was found in possession of 2.035kg of cocaine while Ibe Divine, 33 year old welder was caught with 2.485kg of cannabis.
"Officers detected 6.158kg of heroin hidden amidst clothes in the abandoned luggage. Both cases are currently under investigation" he added.
Oluwasheto who hails from Ondo state told officials that he was asked to send the drug to Nairobi by his childhood friend, adding that he was offered with N300,000.
The second suspect, Ibe Divine, a welder from Imo state who is married with two children said in his statement that he wanted to sell the cannabis in Qatar for a high profit.
Chairman/Chief Executive of the NDLEA, Col. Muhammad Mustapha Abdallah(retd.) in his response assured members of the public that the Agency would continue to improve its screening capability in drug detection, arrest and prosecution of drug barons.