National Drug Law Enforcement Agency (NDLEA) Special Area Commander of Narcotics, Tin Can Island Port, Mr. Mohammed Abu Abubakar, in this interview with SHIPS & PORTS' Abolanle Oluwatola, discusses the activities of the agency in combating drug trafficking at the nation's second largest seaport. 
Can you tell us about the activities of NDLEA at the port? 
NDLEA generally has been saddled with the responsibility of preventing and controlling the illicit trafficking of hard drugs as well as drug abuse in the society. NDLEA as an organisation uses different strategies through which they control the abuse of illicit drugs like public enlightenment, education, prevention, rehabilitation, counselling and law enforcement. At the seaport here, we are more concerned with enforcement because that is what we do. We are also involved in WADA, which stands for War Against Drug Abuse, which are activities geared towards the eradication of illicit drug trafficking in the area. However, in terms of the enforcement, we have standard operational procedures guiding the operations at the seaport which involves how we interact with other law enforcement officials like the Customs, Immigration, Department of State Services (DSS) and other stakeholders as well as the operators at the seaport like the NPA, terminal operators and the shipping lines. On the basis of the standard operating procedures, we gather intelligence from the documents supplied to us by the shipping lines and the ones we gather through intelligence hard work through which we target some containers to ensure that they are hundred per cent in submission. Through all these, we get results because with the volume of the containers coming to the port, you can't just go for everything. You do not have the manpower to do all those kinds of jobs. Everything is being targeted. You select some and you focus on them.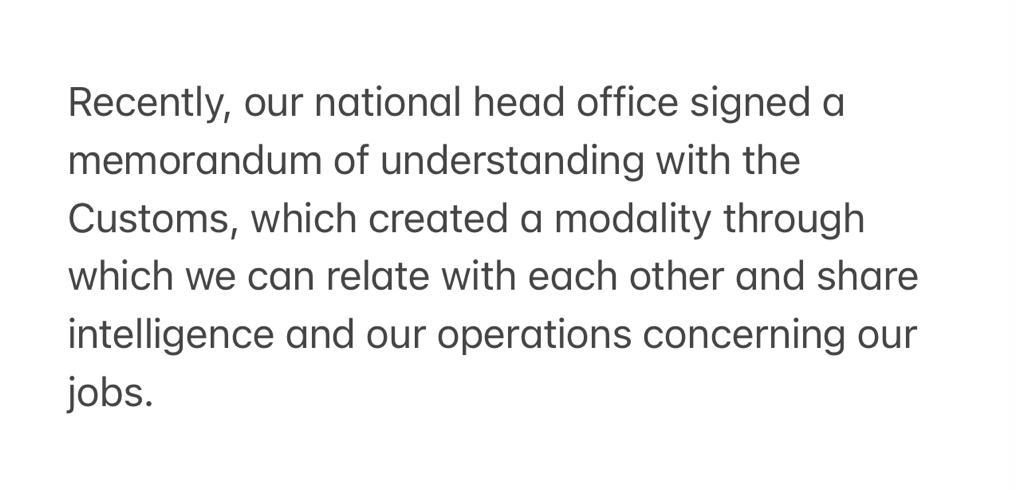 How can drug trafficking through the ports be reduced to the barest minimum?
This can be done through the existing strategies, which we have in place. One of the most important aspects is having all the stakeholders involved because everybody is important. It is not a work for a single agency and you will find out that most of our works sometimes overlap. Where one agency's work stops is where another one takes over. The output of somebody's work is the raw material you need in other to execute your own work. I think the most important thing is to have a synergy of all stakeholders. We are always out there to enlighten them and incorporate other agencies in our own work. For example, the Customs do share intelligence with us. If we have any kind of information concerning any cargo, we get across to them. Then we make sure that the aspect of the cargo is placed somewhere where we can be able to carry out one hundred per cent examination on it. In any new endeavour, there are teething problems but I know that the strategies we have are effective. Recently, our national head office signed a memorandum of understanding with the Customs, which created a modality through which we can relate with each other and share intelligence and our operations concerning our jobs. I believe when everybody is on board it is very easy to tame the menace of drug trafficking in our society but I think the most difficult thing to do is to get everyone on board because there are some bad elements everywhere. However, I believe that with a good system in place, all those things will be dealt with.
Why is there high influx of hard drugs from Canada to Nigeria? 
We are on top of the situation because our head office has been in contact with the Canadian embassy and we are trying to look at ways to nib drug trafficking in the bud from Canada before it even gets to our port here in Nigeria. We are sharing intelligence with them and receiving also from them. They are doing all within their powers to ensure that the drugs do not get to Nigeria. Also, the strategies in place are very important because in order to stop drug trafficking in our ports, everyone must work together. The importance of public enlightenment and education against drug abuse cannot be overemphasised. Once there is a demand for something, there must be a supply for it. As long as some people can make a business out of an adventure or a venture, then they will do whatever it takes to get a supply but with the drug abuse education in place, public enlightenment, advocacy to the well-meaning people in the society, which we do here, it will be reduced. We have been to all the nooks and crannies of this area. There are more than two thousand communities of small islands scattered around Tin Can Island port. We have been to so many of them to sensitise them concerning the dangers of these drugs and how to be helped out of it. We have also tried to get some information about illicit activities taking place around the area and we gave them numbers that they can call to report such activities.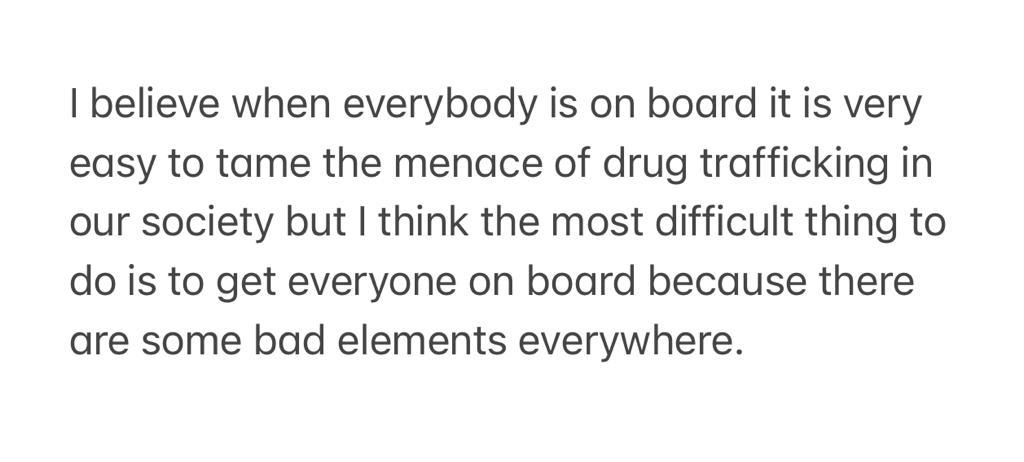 What are some of the success stories of the WADA campaign?
We engage in public sensitisation and enlightenment. There is also the enforcement aspect, which we are trying to enforce concerning drug traffickers and the dealers around the area. But when it comes to counselling and rehabilitation, we refer them to centres that are saddled with these responsibilities. I have had cause to refer people who come to me with such issues to the Lagos State Area Command of the NDLEA. Any issue they cannot handle are referred to other governmental institutions. Recently, it was mentioned by our Commander that they are going to establish rehabilitation centres in the six geopolitical zones in the country so that each zone will be able to have a rehabilitation centre owned and managed by the agency. With that, we can deal with all the problems of the addiction but I think the public sensitisation is the most important aspect of it because once somebody understands the effect of all those things, he can prevent himself from going into them.
How should family members treat drug addicts?
They should be treated like someone who is sick. They are sick though in a different way. It is a kind of sickness, which is self-inflicted. It is not a natural sickness but it is still a sickness because there are so many factors that cause this. These factors differ per person. What will make me take drugs is different from what will make another person take drugs because we are made of different psychology. Even biologically, we are different. Individual differences and antecedents can make one become a drug addict. It is the understanding that helps. By the time you ostracise them; you make them to be an outcast and the damage is already done. This is because you will continue to relate with each other and antagonise each other. It is a blame game. The only way out is to accept that it is a sickness and look for a solution instead of labelling them.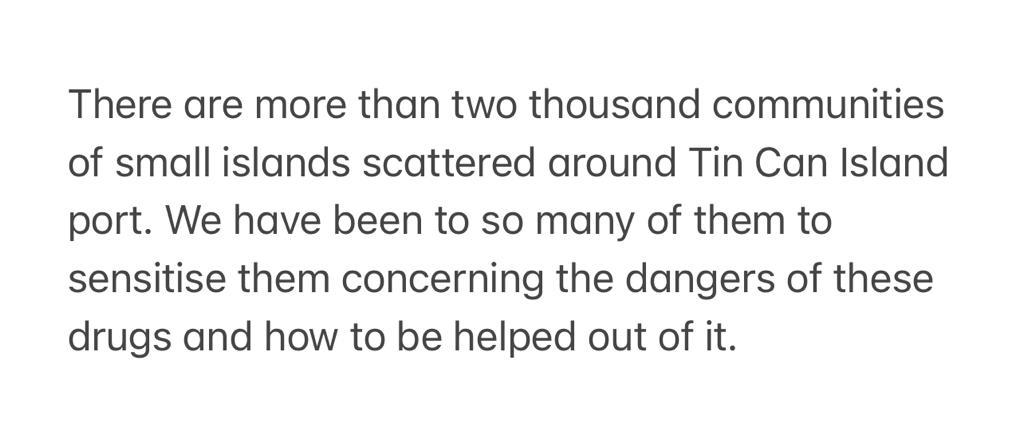 Why do people engage in drug abuse despite the harmful effects? 
This could be because they are already hooked on the drugs. Once you are hooked, what you need is treatment. You no longer need sensitisation. I could remember when I was serving in Sokoto, there was a Manager in a government institution who smoked pentazocine – they call it Fanta. It is a drug mostly used for people who have injury or terminal illness to relieve them of the pain they go through and it gives them some pleasure. It is a controlled drug but allowed in the medical profession. It is highly addictive. The Manager took it when he had an accident and has been taking it to relief his pain till he got hooked on it. That is the danger in allowing patients to know the kind of treatment you are administering on them – they might end up abusing it. When he got well, he continued using the drug. His body became adapted and could not function without it. He wanted to stop but he couldn't at that time. The only way out was to go for treatment and rehabilitation. As regards the treatments, there are experts who know what to do. When the addicts go to the rehabilitation centres, they will be treated, not stigmatised. Labelling leads to condemnation. It is just like a judgement. You have already judged them and once you judge someone as such, you forget him because you see him as useless. He will also not see himself as being useful. He becomes useless, which is what we are guiding against because drug addiction is treatable.
What has been the impact of the partnership between NDLEA and Customs?
There has been serious improvement because in the first quarter of this year, we have had increase in seizures from the seaports. We have at least 36.5% increase in terms of arrest and seizures against last year while still in the middle of the year. During this period, we had about 638.45kg of Cannabis indica coming from Canada into Nigeria with containerised vessels being brought into the country. With this, I can actually say we are on the right path to succeeding.
Copyright Ships & Ports Ltd. Permission to use quotations from this article is granted subject to appropriate credit given to www.shipsandports.com.ng as the source.