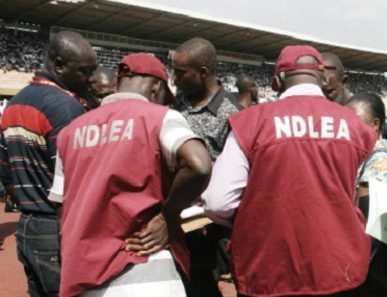 National Drug Law Enforcement Agency (NDLEA) has arrested two policemen for their involvement in the shipment of 1,250 rounds of live ammunition.
The NDLEA spokesman, Jonah Achema, said the live ammunition was intercepted by the agency's FCT Command during a motorised patrol at the Gwagwalada end of Abuja-Lokoja Expressway.
The consignment, destined for Jos, Plateau State, was sent through a transport company from Lagos to be collected by the policemen.
"The two policemen, Jacob Jalwap, an Assistant Superintendent of Police (ASP) attached to Police Command Headquarters, Jos, Plateau State and Nandul Seizing, a corporal attached to Angua Rogo, Jos, were arrested in Jos in a follow-up investigation of the live ammunition accompanied with a way bill containing the phone number and name of Nandul Seizing.
The two men were arrested when they turned up to claim the consignment. The suspects and exhibits have been transferred to the police," Achema said.
In another development, the leading role of Nigeria through the NDLEA in the fight against drug trafficking in Africa has received recognition from one of its international collaborators, the European Union (EU).
The agency has consequently been invited to share Nigeria's experience at EU trans-regional operational meeting against drugs and organised crimes, along the heroine routes. The meeting holds from November 26 to 28, 2018 in Mauritius.
"NDLEA is expected to provide insights into the current situation and trends in Nigeria, including discussing ongoing investigations of landmark cases," EU said.
The meeting, which comes under the project EU-ACT: EU Action against Drugs and Organised Crimes, is the new and innovative demand-driven project, designed to promote the comprehensive and balanced approach on drugs and to enhance synergies with the policy cycle for organised and serious international crimes.
The EU expressed optimism that the operational meeting will contribute to stability and peace as well as the implementation of the 2030 Agenda for Sustainable Development.
The NDLEA Chairman, Col. Muhammad Mustapha Abdallah (rtd.), who led a team of senior agency officials to the operational meeting, said Nigeria was doing so much in the area of drug control and organised crime, an experience which could be shared with other African countries.
He equally applauded the collaborative efforts of the EU in the country.
Abdallah is optimistic that the operational meeting would provide more opportunities for African countries to collaborate against the criminal organisations on the continent and beyond.