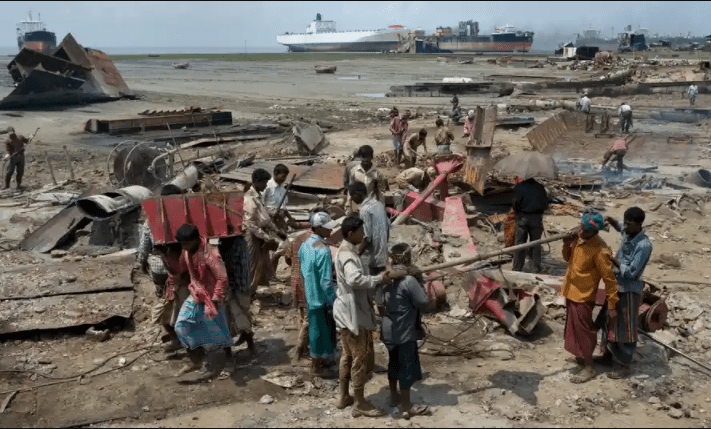 A string of accidents at Bangladesh's infamous shipbreaking beach killed five workers in August, raising the annual death toll dramatically, NGO Shipbreaking Platform confirmed. Two workers were also killed in an accident earlier this month in Aliaga, Turkey.
The Platform said five workers were killed and three severely injured in seven separate accidents in Chattogram, Bangladesh (formerly spelled Chittagong) in August, the result of explosions, falls from height, falling steel plates and exposure to toxic fumes during dismantling operations.
According to the Platform, the sequence of accidents not only shows a lack of responsibility by shipping companies as they continue to sell their end-of-life vessels to be dismantled under knowingly dangerous conditions, but also a lack of action by the Bangladeshi government to regulate the industry.?
"Bangladeshi authorities need to face their responsibility to protect their citizens' rights and ensure the effective enforcement of the law," said Sara Rita da Costa, Project Officer at NGO Shipbreaking Platform. "Business profits can no longer be privileged at the expense of human lives. Urgent action has to be taken against the industry at both national and international level to stop the incessant breach of basic human rights and environmental laws on the beach of Chattogram."
Meanwhile, in Aliaga, Turkey, two workers lost their lives earlier this month when a rope broke during dismantling operations at Metas ship recycling yard, where another fatal accident killed two workers while working on a former Carnival cruise ship in July. Metas is owned by EU-listed ship recycling yard Ege Çelik, which is located just few meters away.
"The death of now four workers at Metas ship recycling yard raises serious concerns that vital occupational safety measures have been neglected. The operations at the yard must be stopped immediately to allow for a full investigation and to prevent any further accidents and loss of life," said Ingvild Jenssen, Executive Director and Founder at NGO Shipbreaking Platform.
NGO Shipbreaking Platform's second quarterly reported showed 258 ships broken worldwide in the second quarter of 2021, including 197 ships were sold to South Asian yards in Bangladesh, India and Pakistan, where yards continue to use the controversial 'beaching' method for dismantling end-of-life ships. Another 204 ships were broken in the first quarter of 2021, including 155 ships were sold to South Asia yards.
Copyright Ships & Ports Ltd. Permission to use quotations from this article is granted subject to appropriate credit given to www.shipsandports.com.ng as the source.