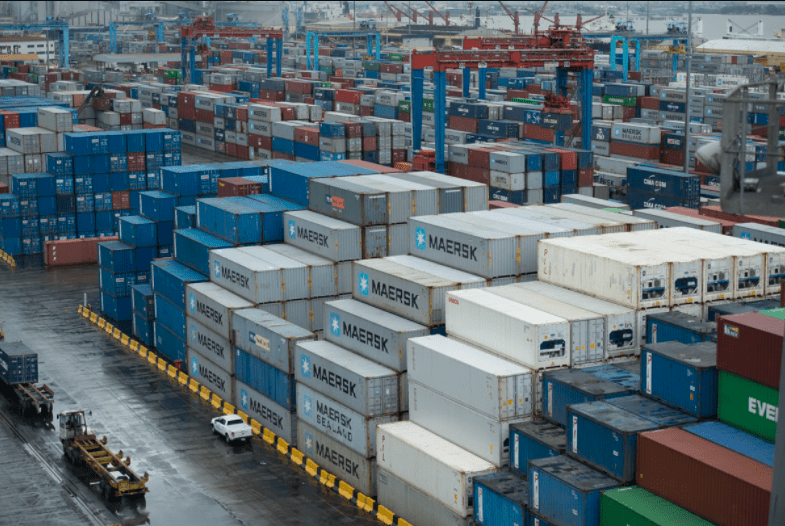 The port community is upbeat about the possibility of a much faster cargo clearance process at APM Terminals Apapa, Lagos, as the Nigeria Customs Service (NCS) is set to deploy a new container scanning machine at the terminal.
For the past eight years, officials of the Nigeria Customs Service have relied on manual examination of containers at the port, as the two scanners – one fixed and one mobile – installed at the terminal and other port facilities across the country have broken down.
"Customs officials preferred manual examination of containers because it gave them a lot of discretionary powers in the port. This is the reason why they refused to maintain the existing scanners inherited from former service providers at the port.
"It is, however, cheering to hear that the present management is set to reverse the ugly trend with the deployment of new scanners. This is good because it will remove those discretionary powers, reduce corruption and facilitate cargo clearance at the port. This, by extension, will facilitate trade and save importers a lot of cost," a Lagos-based importer, Odunbodede Williams, told SHIPS & PORTS.
The Coordinator, Nigeria Customs Service, Zone A, Lagos, Modupe Aremu, an Assistant Comptroller General of Customs, recently confirmed the deployment of new scanners to the port.
"I am very passionate about scanning and I know that in another two weeks, we are expecting three scanners, one for Apapa, Tin Can and Onne ports. With the coming onboard of e-customs, we are expecting 70 scanners that will be distributed everywhere and very soon, we will have our scanners functioning," Aremu said.
SHIPS & PORTSconfirmed that the scanner for Onne Port arrived last week and has been deployed to the West Africa Container Terminal (WACT), while that of Apapa Port, which is expected "in a few days", according to a Customs source, will be deployed to APM Terminals Apapa.
A Customs Comptroller, Auwal Mohammed, said the acquisition of the new scanning machines will facilitate trade and enhance security through "easier detection of prohibited imports".
He said, "Before the arrival of the scanner, examinations of cargoes were usually done manually and physically. This takes time. Virtually everything has to be carried or moved out of the container, then back into the container before examination is concluded. So it is cumbersome. It is time-consuming, and not much containers are properly examined on a daily basis.
"But with the coming of the scanners, which is a non-intrusive examination apparatus, examination will now be conducted with the use of x-ray."
Copyright Ships & Ports Ltd. Permission to use quotations from this article is granted subject to appropriate credit given to www.shipsandports.com.ng as the source.