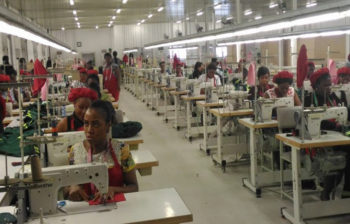 No fewer than 700 women applied for admission into the 2018 Women Empowerment Programme Synergy Scheme (WEPSS) of oil and gas logistics giant, INTELS Nigeria Limited. 
A corporate social responsibility initiative of INTELS, WEPSS was established in 2013 with the vision of empowering 5,000 community women over a 20-year period through training in fashion design and tailoring. To date, more than 500 several women have been empowered through the project. 
Director of INTELS Nigeria Limited, Mr. Silvano Bellinato, said the company remains resolute in enhancing the lives of people in its area of operation and committed to the development of communities in the area.
He said to ensure successful implementation of the WEPSS initiative, INTELS acquired and made available over 300 sewing and specialised machines and built a 5000-square metres garment manufacturing factory at the Federal Lighter Terminal, Onne for the purpose of the training. 
Speaking at the commencement of training of the 2018 session in Onne on Monday, the Head of WEPSS, Abhina Ajmani, said, "This is our fifth session. The training is held once every six months. Most of the applicants are persons who just have their WASSCE qualification. Out of the 700 women that applied, we admitted 125. It was really competitive because the slots are limited. 
"This training is free and lasts for four months per set. Everything has been done to ensure the beneficiaries give their full commitment to acquiring skills that will empower them for life." 
A 2016 beneficiary and graduate of WEPSS, Ms. Dorothy Egbe, said WEPSS is gradually transforming the lives of women in Rivers State. 
She said, "WEPSS has been of great help to me because I was able to learn new skills and acquire an industrial sewing machine at no cost. I am sewing clothes for myself, my family and friends at the moment. I am still in school in my final year now. After I am done with my studies, I plan to start sewing full time, on a commercial scale. I am equally improving on what I was taught, learning how to make designs. I intend to direct my focus on sewing women and children's clothes." 
Egbe also commended INTELS Nigeria Limited for its impact on the lives of several people. 
"I know people whose lives have been affected by INTELS Nigeria Limited. The employment opportunities they have given the youths in my community are more than enough. I have also been told by several of my peers that the company sends food to the Ogoloma-Onne community through our traditional ruler especially cows. They have really done well," she said.  
Copyright Ships & Ports Ltd. Permission to use quotations from this article is granted subject to appropriate credit given to www.shipsandports.com.ng as the source.