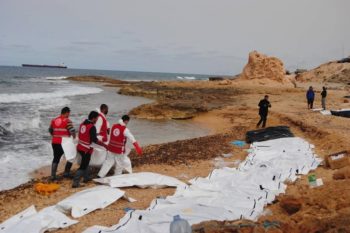 The bodies of 74 migrants were recovered from a beach near the town of Zawiya in western Libya, rescuers said on Tuesday, an ominous sign before the high season for Mediterranean crossings.
The bodies were believed to have come from a shipwrecked boat that was found on the same stretch of shore, said Mohammed Almosrti, a spokesman for the Libyan Red Crescent. He estimated that the bodies had been in the water for at least 24 hours.
Red Crescent workers spent seven hours collecting the bodies on Monday afternoon, and the organization posted photographs of dozens of black-and-white body bags lined up on a beach. Three of the dead were said to be women. Given the capacity of the boat, which could hold up to 120 people, the death toll is expected to rise, Almosrti said.
The tragedy was a stark reminder about what may lie ahead during the main migration season in Libya, the principal springboard for most African migrants seeking to make it to Europe.
Although the illegal trade usually slows for the winter, at least 228 people died in January while trying to reach Italy, mostly in smaller boats and inflatable vessels, according to the European Border and Coast Guard Agency.
The bodies that washed up near Zawiya, a smuggling hub 30 miles west of the capital, Tripoli, appeared to be a sign that larger boats were now starting to set off.
"Usually they wait until April or May, and it continues until October," Almosrti said. "If they are starting strong like this, it means we could see a lot of deaths this year."
The route between Libya and Italy was the site of a record number of deaths in 2016. At least 4,579 people died while making that passage, Fabrice Leggeri, head of the European Border and Coast Guard Agency, said last week. The toll for 2015 was about 3,000.
Libya was the launching point for many of the estimated 180,000 migrants who reached Italy last year. The migrants, most of whom are trying to flee war or poverty in Africa, often arrive in Libya after arduous journeys through the desert.
They entrust their lives to smuggling gangs that have set up along a 230-mile stretch of coast in western Libya, which is largely controlled by an array of rival militant groups.
Italy recently trained 89 members of the Libyan Coast Guard, hoping that they would take distressed boats back to Libya instead of allowing them to continue to Italy. The initiative is part of a broader European effort to stem the flow of migrants.
Italy will also provide money, medicine and training to set up migrant holding centers in Libya. But the plan depends largely on assistance from the United Nations-backed unity government in Libya, one of several rival administrations in the country, with only limited control in Tripoli and further along the coast.
Copyright Ships & Ports Ltd. Permission to use quotations from this article is granted subject to appropriate credit given to www.shipsandports.com.ng as the source.