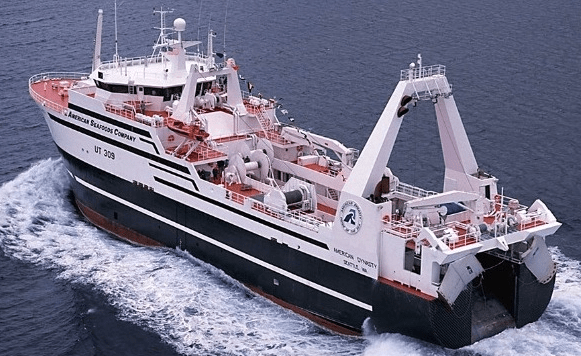 At least 86 people have tested positive for COVID-19 on board a U.S.-flagged fishing trawler now docked in Seattle, Washington.
American Seafoods Company previously reported that one crew member from its American Dynasty tested positive for COVID-19 on May 30. As a result, the company has now tested the entire crew, confirming an additional 85 crew members have been infected with the virus. Currently the vessel is docked at the Port of Seattle and all crew are in quarantine in facilities in Seattle.
Seattle and Dutch Harbor-based American Seafoods is one of the largest seafood companies in North America, operating six vessels in the North Pacific Ocean and the Bering Sea.
Crew members on two additional American Seafoods vessels, the American Triumph and the Northern Jaeger, are now being tested as a precautionary measure. The Triumph docked Wednesday in Bellingham to offload product, while the Jaeger is expected to arrive in Bellingham later today.
On the Northern Jaeger, one crew member reported feeling ill on-board last week and was transported to the hospital where they have tested negative for COVID 19, the company said.
"We're conducting these tests out of an abundance of caution," said American Seafoods CEO Mikel Durham. "Protecting the health of our crew members and the communities where we operate is a top priority for us."
American Seafoods said it screened all its crew members before they boarded vessels in mid-May to take part in the Pacific Whiting season and only allowed those who tested negative to board.
The company is coordinating on the matter with various agencies, including Whatcom County Health Department, Public Health—Seattle & King County, Centers for Disease Control and Prevention (CDC), the U.S. Coast Guard, Whatcom County Unified Command, and the Port of Seattle.