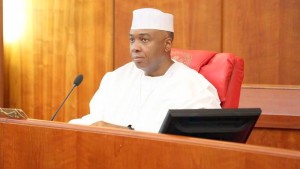 The overarching purpose of a budget is essentially to ease the economic pressure on our people in general and the poor most especially. The 2017 budget assumes even a greater significance, particularly in this time of recession.
President, the feedback we get from visits to our various constituencies is that there is hardship in the land. We can see it and we can feel it. This situation therefore commands all of us as government to a greater sense of urgency. We cannot work magic, but we must continue to work the clock.
Our people must see that the singular pre-occupation of government is the search for solution to the current economic hardship; and the commitment to ease their burden. They don't want to know what political parties we belong, what language we speak or how we worship God. They have trusted their fates into our hands, and they need us now more than ever, to justify the trust that they have reposed on us.
The people of Nigeria will pardon us if we do some things wrong. But they will not forgive us if we do nothing.
President, you will recall in 2015, I made a clarion call while receiving Your Excellency's budget presentation for that year that the 2016 budget needed to be bold and pragmatic to drive local production and promote made-in Nigeria goods.
The only way we can cut down on our foreign exchange needs, create jobs and stimulate entrepreneurship in the country is to promote local manufacturing and investments.
This is why the National Assembly injected the made-in-Nigeria amendment into the Public Procurement Act. We are expectant that with your leadership, Mr. President, we will achieve even much more in this area. It is the hope of the National Assembly that the 2017 budget will continue to proactively pursue this policy objective.
It is in times like this, when we are challenged from all sides that we need to develop new relationships and cultivate more friends. No one can clap with one hand and expect to be heard. This is the time when compromise, engagement is the tool necessary for successful collaboration and cooperation.
President, though we are confident that we are receiving from you a very well-articulated budget proposal, it is worthy to point out that the best produced budget from the executive at all times still remains a proposal according to our constitution which the National Assembly will work assiduously on.
Copyright Ships & Ports Ltd. Permission to use quotations from this article is granted subject to appropriate credit given to www.shipsandports.com.ng as the source.