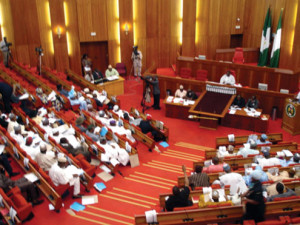 The Senate president, Dr Bukola Saraki on Wednesday directed the Senate Committee on Agriculture, Finance and Customs to sit down with the Ministry of Finance to have them review the import tariff increase.
After a point of order raised by Senator Sabo Muhammed on the issue, Saraki further directed the aforementioned committees to invite all relevant Ministries, Departments, Agencies and Stakeholders in the industry to investigate and provide a lasting solution to this issue of increase of tariffs on importation.
Speaking further the Senate president said, "This issue is critical, the somersault on some of these policies and the inconsistencies therein need to be addressed. The key issue here when we are talking about Agriculture is that we must ensure that we create an enabling environment for operators in the sector.
"When I was the Chairman of a Technical Committee on this, and we were trying to increase the tariffs from 10 percent to 15 percent, we noticed that it comes as a shock to many businesses, so instead of us going up, we are going down.
"So, please, Chairman Agriculture, Chairman Finance, sit down with the Ministry of Finance — they must suspend this policy. We cannot continue to say that we are supporting agriculture, yet be doing this that are affecting the sector", he said.