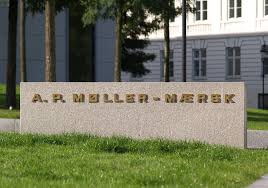 Danish oil and shipping conglomerate A.P. Moller-Maersk said on Thursday it would split the group into separate businesses for transport and energy as it faces headwinds in both sectors.
"The industries in which we are operating are very different, and both face very different underlying fundamentals and competitive environments," chairman Michael Pram Rasmussen said in a statement.
"Separating our transport and logistics businesses and our oil and oil-related businesses into two independent divisions will enable both to focus on their respective markets," he added.
The group said that its "main growth focus" going forward would be in "world class transportation and logistics services."
Oil and oil-related businesses would "require different solutions for future development including separation of entities individually or in combination… in the form of joint ventures, mergers or listing," it said.
The company's objective was to find a solution within 24 months, it said.
Maersk also said that the head of Maersk Drilling, Claus Hemmingsen, would become chief executive of the energy division, while group chief financial officer Trond Westlie would be replaced by Jakob Stausholm, who currently heads up strategy at Maersk Line.
Maersk Oil chief executive Jakob Thomasen and APM Terminals chief executive Kim Fejfer would both step down, it said.
The new CEO of APM Terminals will be Morten Engelstoft, currently CEO of APM Shipping Services and CEO of Maersk Tankers. Morten Engelstoft's appointment is effective November 1, 2016.
"Morten Engelstoft has a strong track record of delivering results, deep operational experience and is an excellent people leader. I am confident that APM Terminals under Morten's leadership will continue to thrive as one of the world's largest terminal operators and successfully execute on APM Terminals' priorities of costs, productivity and winning new profitable third party business," says Søren Skou, Group CEO of A.P. Møller – Mærsk A/S.
Kim Fejfer, currently CEO of APM Terminals and Executive Board member in the Maersk Group will take up a new role related to A.P. Møller Holding A/S.
The new CEO of Maersk Oil will be Gretchen Watkins, current Chief Operating Officer in Maersk Oil. Grethen Watkins will take up the role as CEO of Maersk Oil effective October 1 2016.
Jørn Madsen has been appointed CEO of Maersk Drilling. Jørn Madsen is currently CEO of Maersk Supply Service a role he has held since 2015. He will assume his new position after a replacement is named as CEO of Maersk Supply Service.
Christian M. Ingerslev has been appointed CEO of Maersk Tankers taking effect as of November 1 2016. Christian has since 2014 been CCO of Maersk Tankers.
The group said in June that it was considering splitting itself into different companies, as it said the head of Maersk Line, Soren Skou, would also become the group's chief executive.
Maersk Line is currently facing a depressed shipping market that is weighed down by overcapacity and sluggish global trade, while Maersk Oil has had to cut staff as a result of falls in oil prices.
South Korea's Hanjin, the world's seventh-largest shipper, is seeking bankruptcy protection at home and in the United States after creditors refused to further help the firm.
Shares in Maersk were 0.76 percent higher in mid-morning trading on the Copenhagen bourse, where the main index was 0.25 percent higher.