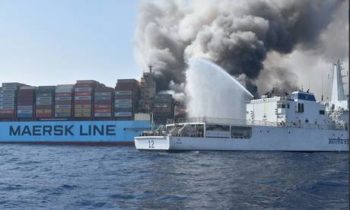 A fire below deck on the containership Maersk Kensington headed towards Suez from Oman has been contained, less than two weeks after the fatal fire onboard the Maersk Honam in the Arabian sea.
The 6,188 TEU Maersk Kensington reported a fire in a container the cargo hold while enroute from Salalah, Oman to Suez on Thursday at 2050 hrs EST. The fire was contained using all the vessels CO2 systems and all 26 crew onboard are reported to be safe and accounted for. The vessel is currently anchored outside the port of Salalah.
Maersk Line said the cause of the fire is unknown. 
"However, initial investigation indicate there is no link between the cargo in the cargo hold where the fire began on Maersk Kensington and the cargo in the cargo hold which caught fire on Maersk Honam on 6 March 2018," it said.
The 2007-built, Maersk Kensington is part of the US-flagged Maersk Line Limited (MLL) fleet.
The vessel had 3,518 containers onboard corresponding to 5,616 teu.
The container fire comes less than two weeks after the a serious fire erupted on the 15,252 TEU Maersk Honam, leaving four dead, and another missing and believed dead. The vessel's crew evacuated the Maersk Honam after they were unable to bring the blaze under control.