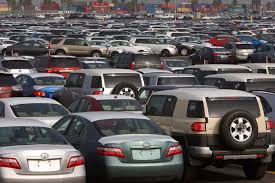 The Federal Government, through the Nigerian Customs Service, last week issued a directive banning the importation of cars through Nigeria's land borders. The ban affects used and new cars. The order was clear that this action does not represent a total ban on importation of cars into the country, but a restriction of car importation to Nigerian seaports.
The ban has since generated a lot of debate with many condemning the action, especially those who are up in arms and have accused the government of being insensitive to the plight of small car dealers who, it is now becoming clear, are major beneficiaries of cars imported through the country's land borders.
There are also those who have pointed out that the ban, coming at this time when the country is in recession, represents a further squeeze on the already tight economic positions that Nigerians are in. Those who have made this accusation have not, however, shown how the ban adds to this squeeze, except that they say the prices of imported cars will rise when they begin to come in through Nigeria's seaports in January 2017.
The Government's argument for the ban, and rightly so, is that the country is losing money as a result of unpaid duties and taxes because a vast majority of the cars that comes in through the land borders is smuggled into the country. Besides this point, it has also been noted that the land borders are a veritable ground for corruption as smugglers tend to have their way with border officials who collect bribes and look the other way while smugglers have a field day.
But there are more overriding economic reasons for the Federal Government to step in to put a halt to the nefarious activities that take place at the country's land borders. For many years, the Nigerian government, enjoying the cushion provided by lucrative oil prices had become irresponsible in the management of its broad economic responsibilities. The fact that oil revenues were 'walking' into the coffers of government and it appeared to be never drying up, made government complacent, neglecting other sources of generating revenues.
Now, it appears the chicken has come home to roost and government is now waking up from a deep and long slumber. It must be said, however, that anytime government attempts to put in place measures such as this, particularly since it is aimed at making sure it gets car importers to pay duties and taxes, the opposition is not often because it is doing so. It is rather government's failure for many years to justify its revenue drive by the quality of services it renders to citizens. It is generally believed that revenue generated ends up in the pockets of government officials who feed fat at the expense of citizens.
SHIPS & PORTS DAILY is of the view that in welcoming the action taken by the government to ban car importation through the land borders in order to generate revenue and curb smuggling, government has a responsibility to ensure that it provides efficient services directly, at the ports to importers, and generally, to citizens who need to be satisfied that revenues generated will be used to provide services to Nigerians.
We are also of the view that in putting this ban in place, Government should have a broad view of this in terms of policy direction, not just looking at it from the narrow view of revenue generation and control of smuggling. Apart from taxes and duties, Nigeria has been losing jobs to neighbouring countries, as well as stagnating in port cargo clearance technology developments in the decades that it had turned a blind eye to this matter.
It is our view that the Federal Government must now rise to its responsibility and see the job creating side of this policy and approach it with an eye to harness all the benefits that it offers. It must also be accountable as we expect that six months down the road, an account would be given of how well the policy has been implemented.
Copyright Ships & Ports Ltd. Permission to use quotations from this article is granted subject to appropriate credit given to www.shipsandports.com.ng as the source.