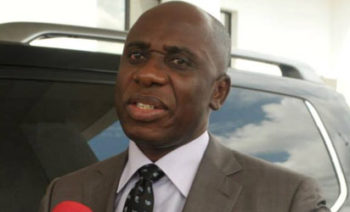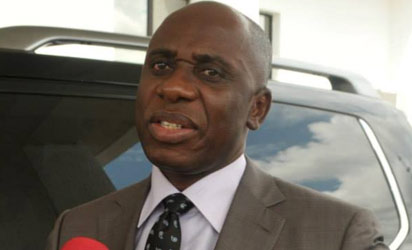 The Chairman of the South-East Caucus in the Senate, Enyinnaya Abaribe, has challenged the Minister of Transportation, Rotimi Amaechi, to explain why the eastern corridor was allegedly excluded in the rail line projects of the Federal Government.
Abaribe, on Sunday in Abuja, asked Amaechi to explain why rail lines in the South-East corridor were billed for concession, while rail lines in other parts of the country would be built with funds borrowed by the Federal Government and which the entire the country would pay.
The Abia North senator had at the plenary on Tuesday protested against the alleged exclusion of the South-East, saying that the geopolitical zone would not benefit from the projects for which the government was obtaining a loan of $5.851bn from China Exim Bank.
The motion was titled, 'Outright Omission of Eastern Corridor Rail Line in the Request for Approval of Federal Government 2016-2017 External Borrowing (Rolling Plan).'
Amaechi had in a statement by the ministry denied that the South-East was excluded from the rail projects.
In his reaction to the statement by the Ministry of Transport, in which it was said that Aba in Abia State and Onitsha in Anambra State were among towns covered by the coastal railway corridor, Abaribe argued that his motion on the matter was not only about the South-East but "about the second major railway corridor in Nigeria, built by the British, which covers the South-South, South-East, North-Central and the North-East."
He said, "The corridor is from Port Harcourt (Rivers State) to Maiduguri (Borno State). It covers over 100 towns and major cities, not about Aba or Onitsha; far from it. It industrialised many cities and gave jobs directly and indirectly to thousands.
"In addition, the letter from Mr. President seeking for expedited action on approval of the loan did not specify when the eastern corridor would be modernised. It said that negotiations were on to get a concessionaire for the eastern line. In other words, while we borrow for the western line, we must wait to get some entity interested to concession it (eastern line)."
When asked why the eastern corridor could not wait for the next phase as proposed by Senator Gbenga Ashafa during the debate on his motion, Abaribe said, "If it is our collective money saved out of our earnings, we can wait for the next season. But since it is a collective debt, why don't we endeavour to borrow enough and stimulate the growth of every region at the same period?" 
Copyright Ships & Ports Ltd. Permission to use quotations from this article is granted subject to appropriate credit given to www.shipsandports.com.ng as the source.