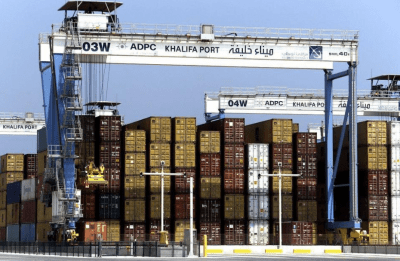 Abu Dhabi Ports is offering a three-month rent deferment for the second quarter of the year for its customers as part of the relief measures aimed at curbing the impact of the coronavirus pandemic on their operations.
The package also includes a freeze on late payment penalties and an exemption from Tawtheeq fees.
Measures have also been introduced for new investors, including a waiving of application fees, a 25 percent reduction in land lease rates for the first year, an exemption on Tawtheeq fees and a relinquishing of land fixing fees.
"In line with the Government's effort to extend relief to businesses during these exceptional economic circumstances, Abu Dhabi Ports is taking necessary steps to help our industrial and economic zone customers overcome the current challenges brought on by the spread of coronavirus," Captain Mohamed Juma Al Shamisi, Abu Dhabi Ports Group CEO, said.
The relief measures are being launched on the back of a 25% waiver on rentals for new customers at Khalifa Industrial Zone Abu Dhabi, KIZAD.
Other benefits under the government relief package include exemptions until the end of the year on commercial real estate registration, subsidised utilities for commercial and industrial activities a AED3 billion allocation for SME's credit guarantee programme, as well as waiver of performance guarantees of up to AED50 million for start-ups.
Recognising the need for solidarity in times of crisis, global ports have joined together under the banner of Abu Dhabi Ports' "Horns of Hope" initiative to show support for those engaged on the front lines with the coronavirus pandemic.
The initiative calls on all ships in harbours around the world to sound their horns in 15-second bursts each evening, in recognition of the efforts of maritime, healthcare, and critical sector personnel, who are working diligently to ensure their respective communities remain safe and healthy.
Similar efforts have been observed in a number of ports across Europe, such as the Port of Antwerp, Rotterdam, Vauban, Monaco, and Barcelona, in addition to Ports in Germany.
In the MENA region, the long list of "Horns of Hope" participants — in addition to Abu Dhabi Ports' maritime localities — includes Jebel Ali Port, Ajman Port, Jizan Port, Shuaiba Port, as well as Khalifa bin Salman Port in Bahrain. Egypt's Port of Alexandria, Iraq's Khor Al Zubair Port, the Port of Tripoli in Lebanon, along with Suez's Al Ain Alsokhna, Adabiya, and East and West Port Said have also joined the daily activity.
"The Horns of Hope initiative has given people across the region and around the world daily affirmation that all communities are standing together to overcome the challenges presented by the COVID-19 pandemic," Abdullah Al Nuaimi, Minister of Infrastructure Development and Chairman of the Federal Transport Authority – Land & Maritime (FTA), said. 
"The persistence and dedication of frontline workers inspires all of us to fight, each on his own front."
"As the world's standard-setting organisation for the shipping industry, it is heartening to see the Horns of Hope solidarity campaign begun by the UAE has been so enthusiastically adopted by global ports," Kitack Lim, Secretary-General of the International Maritime Organization, said.
"Those who work in shipping to keep the sea lines open for the world are to be admired and respected for their daily selfless acts of courage in the face of adversity and challenge. We are grateful and continue to applaud our members for their support of the Horns of Hope campaign."
Abu Dhabi Ports and other participating maritime authorities of the "Horns of Hope" campaign will continue to sound their horns daily at 18:30 until the COVID-19 crisis comes to a close.