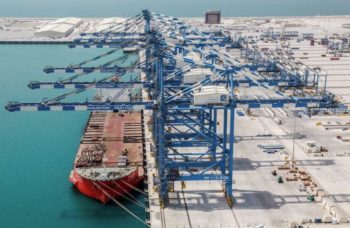 UAE's Abu Dhabi Ports (ADP) has signed a $300m investment cooperation agreement with China's Jiangsu Province to strengthen economic ties in the free trade zone (FTZ) area in Khalifa port, as part of China's One Belt One Road (OBOR) initiative.
The initial $300m investment plan will be from five Chinese companies based in Jiangsu Province that would create more than 1,400 jobs.
Under the terms of the agreement, China-UAE Industrial Capacity Cooperation Construction (Jiangsu) Management, a UAE company newly established by the Jiangsu Provincial Overseas Cooperation and Investment Company Limited (JOCIC), will occupy and develop approximately 23.7 million square feet of the FTZ for the Chinese companies. This represents 2.2% of the available FTZ in Khalifa Industrial Zone Abu Dhabi's (KIZAD) newly allotted Khalifa Port Free Trade Zone (KPFTZ) area.
The five Chinese tenant companies are Hanergy Thin Film Power Group, Jiangsu Fantai Mining Development (Group) Co, Xuzhou Jianghe Wood, Jiangsu Jinzi Environmental Technology, and Guangzheng Group.
The land lease includes an option for China-UAE Industrial Capacity Cooperation (Jiangsu) Construction Management to establish and develop a further 107,639,100 square feet of free zone at KIZAD Area B to meet additional demand by Jiangsu province businesses.
Commenting on the investment agreement, H.E. Dr. Sultan Ahmed Al Jaber said: "We have worked hard to make KIZAD not only the largest free zone in the region, but also one of the most sophisticated and high-potential free zone areas in the world, particularly for the industrial and manufacturing sectors."
The agreement also saw the establishment of a 50-year Musataha Agreement, signed by Abu Dhabi Ports with JOCIC.
"The Musataha agreement between Abu Dhabi Ports and JOCIC will attract foreign investment into Abu Dhabi – an ideal environment for investment opportunities due to the competitive advantages KPFTZ enjoys, including its strategic location, world-class infrastructure and logistics solutions. Khalifa Industrial Zone and Khalifa Port are both expected to see a surge in global investments," added H.E. Al Jaber.
The UAE is considered a gateway to about 60% of China's exports to regional markets at an annual volume of exchange of $70bn.
China's H.E. Vice Governor Huang Lixin stated: "We will work together with Abu Dhabi to build the UAE-China Industrial Capacity Cooperation Demonstration Zone into a landmark program of the 'Belt and Road' initiative and a beacon of UAE-China exchanges and cooperation."
Captain Mohamed Juma Al Shamisi, ceo of ADP, said "the agreement plays a pivotal role in the Abu Dhabi government's plans to strengthen the infrastructure and transport sectors in Abu Dhabi, in line with the Abu Dhabi Economic Vision 2030."
Al Shamisi added, "Last year, ADP signed with Cosco Shipping, the world's largest container operator, who chose Khalifa Port as the hub for its operations in the Middle East, and is expected to raise the annual capacity to 6m teu in both its existing container terminals."
Copyright Ships & Ports Ltd. Permission to use quotations from this article is granted subject to appropriate credit given to www.shipsandports.com.ng as the source.