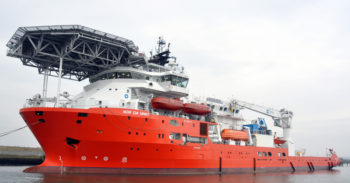 A dive support vessel with 23 crew was forced to issue a mayday call on Monday after a fire broke out in the vicinity of the vessel's engine room as the ship was approximately 5 nautical miles east of the Tyne piers on the east coast of England.
After picking up the call distress call from the Marshall Islands-flagged Nor Da Vinci, which had just departed Blyth harbour, the UK Coastguard tasked Tynemouth RNLI's lifeboat to assist the vessel along with the windfarm support boat Iceni Spirit.
Arriving to the Nor Da Vinci within minutes of launching, the lifeboat crew made contact with the crew of the Nor Da Vinci who assured them that they were all safe and no-one was in immediate danger.
Later, the crew of the Nor Da Vinci confirmed that although there had been a fire, all flames had been extinguished, leaving only smoke coming from smoldering pipe lagging. The crew eventually confirmed that the fire was completely out, but that they were going to anchor and shut all systems down to make a full investigation.
At about 4:10 p.m., the Nor Da Vinci reported to the UK Coastguard that they had finally located the problem that caused the fire and that all was safe. They also reported that two of the ship's seven engines had been isolated from the fire, allowing the vessel to get under way.
"Our volunteer crew members responded to the alert as fast as possible, not knowing how bad the situation was," said Adrian Don, Tynemouth RNLI spokesman. "This could have been a major incident with the crew of the Nord Da Vinci potentially having to abandon ship but thankfully they brought the fire under control quickly with no harm coming to anyone."
"The lifeboat stood by in case the fire restarted or any of the ships crew were injured during the firefighting and investigations of the cause," Don added.
Copyright Ships & Ports Ltd. Permission to use quotations from this article is granted subject to appropriate credit given to www.shipsandports.com.ng as the source.