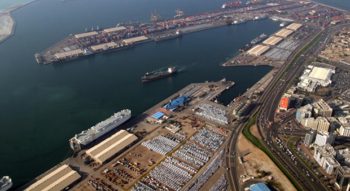 Abu Dhabi Ports, the master developer, operator and manager of the emirate's ports and Khalifa Industrial Zone, has announced a major expansion plan for its Khalifa Port Free Trade Zone (KPFTZ) to accommodate more industries.
Currently, 40 companies operate in the free trade zone in a range of sectors including industrial, trading and services. The new free trade zone will be connected to the future rail network for the transport of goods.
The 100 sq km Khalifa Port Free Trade Zone, located next to Khalifa Port, is the second fastest growing port in the world, and poised to become the future of trade in Abu Dhabi.
While addressing media at the Global Manufacturing and Industrialisation Summit on Tuesday, Captain Mohammad Juma Al Shamisi, CEO of Abu Dhabi Ports, said: "KPFTZ provides numerous advantages to investors, including competitive lease prices and some of the lowest utility costs in the world, all under tax free umbrella."
The expansion will offer significant value to investors, while strengthening Abu Dhabi's position as a thriving maritime hub in the Middle East, Africa, and South Asia region.
Mana Mohammad Saeed Al Mulla, CEO at Khalifa Industrial Zone Abu Dhabi (Kizad) said: "With this new addition of free zone land, we intend to attract global interest from manufacturing investors that will ring technology, product diversification and increased trade through our ports." The rise of Khalifa Port
Last year, the Khalifa Port container terminal intensified expansion efforts to accommodate the world's largest ships. The development at the port, one of the world's fastest growing container, bulk cargo and roll-on roll-off vehicle transport ports, will add 1,000 metres of quay wall to the port and deepen its main channel and basin to 18m from the current 16m. The new quay wall will add an additional 600,000 sqm for cargo handling.
The port's container terminal currently has a capacity of some 2.5m twenty-foot equivalent units (TEUs) a year, while its general cargo handling capacity stands at about 12m tonnes per annum, according to Abu Dhabi Ports. The container facility is the first semi-automated container terminal in the Middle East region.
Captain Mohammed Juma Al Shamisi, CEO of Abu Dhabi Ports, said: "Building on recent growth at Khalifa Port, we are future proofing our operations to ensure we can continue to attract the world's leading operators to use our world-class facilities that will see Capesize vessels, the largest in the cargo industry, come directly into an Abu Dhabi port for the very first time.
Initial step in implementing this plan has been the signing of a contract with the National Marine Dredging Company (NMDC) which will start preparatory work on dredging the channels and using this material to build up the new 1,000-m-long quay wall and the adjacent yard behind it. About 250 workers will be involved in the expansion project work, which is scheduled for completion in mid-2018.
Engineer Yaser Zaghlool, CEO of NMDC, said: "We see Abu Dhabi Ports as a strategic partner with the important role of actively enhancing the UAE maritime sector. We will build upon that by providing our services while maintaining the highest standards through the employment of a specialised and experienced workforce."
These measures will ensure the port can accommodate anticipated growth in the short to medium term and handle the world's largest ships, solidifying the emirate as a logistics and maritime hub while also serving major industries across the UAE.
Abu Dhabi Ports has also signed a concession agreement with the China based Cosco Shipping Ports Limited to build and operate a terminal at Khalifa Port.
Older ports shift focus
Zayed Port, located next to Abu Dhabi City's centre, was formerly the emirate's principal maritime facility, this changed following the opening of Khalifa Port. Zayed Port no longer handles container and ro-ro operations, but it continues to hold general, bulk and project cargo and has observed growth in some types of traffic.
The emirate's third major commercial terminal, Musaffah Port, is situated near the industrial zone of the same name close to Abu Dhabi city. The port has nearly 40 km of waterfront and is made up mostly of private terminals, including an iron ore terminal operated by Emirates Steel, as well as hydrocarbons-focused operations. Abu Dhabi Ports also operates a general cargo terminal at the facility.
Copyright Ships & Ports Ltd. Permission to use quotations from this article is granted subject to appropriate credit given to www.shipsandports.com.ng as the source.