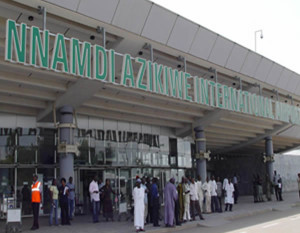 The Federal Government will still carry out another round of upgrade work on the runway of the Nnamdi Azikiwe International Airport, Abuja for 18 weeks after the facility would have been reopened for operations on April 19.
A top Presidency official, who spoke on condition of anonymity, disclosed this to journalists in Abuja on Sunday.
The airport is currently shut to allow reconstruction of its runway. The work, which is in its third week, is expected to last six weeks.
Quoting from a report of the Federal Government Coordinating Committee overseeing the management of the airport repair, closure and relocation, the Presidency official said unlike the ongoing work on the runway, the 18-week upgrade would not necessitate closure of the airport.
He said the upgrade would be done in the night and would not disrupt flight operations.
The official said, "After the Abuja airport reopens for operations on April 19, upgrade works on the runway will continue for another 18 weeks.
"This second phase of upgrade works on the runway will be carried out at night, with no disruption to flight schedules."
He added that a media tour to allow journalists observe and assess the progress on the airport's runway repair would hold this week as the repair entered its mid-point on Wednesday.
Still quoting from the committee's report, the official disclosed that more than 43,000 passengers passed through the Kaduna International Airport in the first 11 days of operations as the alternative to the Abuja airport.
The figure, he said, was more than the 41,000 passengers that passed through the airport in the first quarter of 2015 and the 21,000 passengers in the first quarter of 2016.
He added that during the three-week period, about 10,000 passengers took advantage of the free bus shuttle organised by the Federal Government to transport passengers between the Abuja and Kaduna airports.
Meanwhile, following concerns raised by members of the National Assembly over poor safety procedures at the Kaduna airport, the House of Representatives Committee on Aviation will today (Monday) inspect the KIA and also assess the ongoing rehabilitation of the Abuja airport runway.
Members of the House of Representatives on Thursday condemned aviation operations at the Kaduna airport, thereby making a dramatic U-turn from their earlier position.
They said the airport fell short of the safety standards for both domestic and international flight operations.
It was learnt that following the concerns raised by members of the House, its Committee on Aviation decided to inspect both airports despite the fact that the lawmakers had four weeks ago passed a resolution supporting the closure of the Abuja airport and giving the nod to the Kaduna airport to serve as an alternative.
Sources at the NAIA said that concerns raised by the lawmakers were taken seriously by authorities in the aviation sector, adding that this was why the government decided to work with the lawmakers as they carry out an oversight of the facilities.