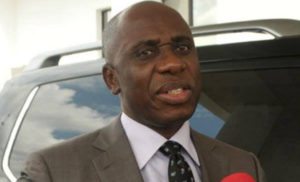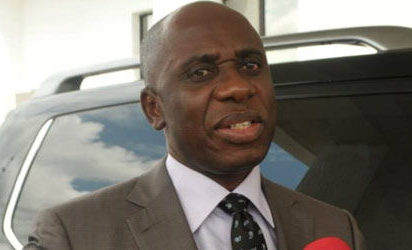 The Minister of Transportation, Rotimi Amaechi, has said his expectation for Abuja-Kaduna rail service after two years of operations is for the route to break-even and not about profit making.
He made stated this in an interview with reporters on Tuesday in Abuja on the second anniversary of the rail service.
The Abuja-Kaduna rail service, which commenced commercial activities on July 26, 2016, is part of the Federal Government's transportation transformation programme.
Amaechi disclosed that the ministry was putting in N56 million monthly and getting N16 million from the service before the fare was increased.
He said, "We have done two years, the first step I took was to reduce the fare, which I did deliberately and people started asking us to increase it and we increased it to what people can afford.
"People are standing on the train because it's a cheap and safe means of transport.
"When we started, we were putting in N56 million per month and making just N16 million by subsidising it.
"What I want is just for us to break even not making profit.
"People like the train because we've been prompt, clean and we kept the fare low; so we have shown that there is nothing wrong with the black man.
"There is nothing like international standard, we can beat any standard if we focus on it.
"The train is not being managed by white men or CCECC, it is being managed by NRC."
Meanwhile, the Managing Director of NRC, Fidet Okhiria, said that he measured profit by service delivery and not income.
He said that the focus was on service delivery where passengers could get a train every 30 minutes.
"I don't measure my profit in naira and kobo but by service delivery.
"We have increased from four coaches to 14 coaches, which is a great impact, we are almost clocking one million passengers daily.
"We have ordered more coaches and locomotives that will arrive next year, our target is to run every 30 minute on passenger train."