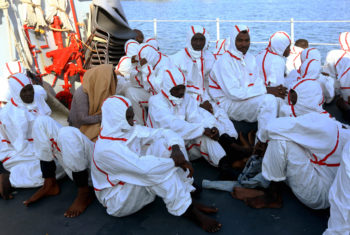 A rescue operation in which an Italian towboat rescued more than 100 migrants and returned them to Libya earlier this week may have been in breach of international law, the United Nations said on Tuesday.
According to Spanish charity, Proactiva Open Arms, an Italian towboat rescued 108 migrants from international waters on Monday and took them to Libya, their country of departure.
This would constitute a breach of international law, under which migrants rescued in international waters cannot be returned to a place where their lives are put in danger.
Both the United Nations and European Union have acknowledged that Libya is not safe.
Italy's coast guard said on Tuesday that the rescue had taken place in Libyan waters, not international waters, and was coordinated by the Libyan coast guard.
The Libyan coast guard was not immediately available for a comment.
Proactiva spokeswoman, Laura Lanuza, said its members learned the rescue occurred in international waters because their boat was nearby and they could listen to radio communications between the Italian ship and the Libyan authorities.
A spokesman for the U.N. migration agency said it could not establish the location of the rescue. He said the agency was still investigating the case but confirmed the return of the migrants to Libya.
The U.N. refugee agency said the operation "could represent a violation of international law," it said on Twitter.
Migrants' charities are at loggerheads with the new Italian government and its right-wing home affairs minister, Matteo Salvini, who wants to reduce the number of migrants arriving on Italy's shores.
Agency Report