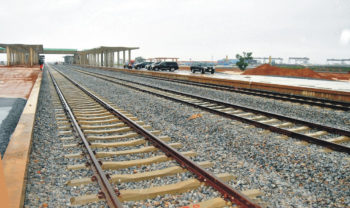 Acting Secretary of the Federal Capital Territory's Transport Secretariat, AbdulHamid Suleiman, says Abuja Light Rail is 84.33 per cent complete.
Suleiman made this known in an interview in Abuja on Tuesday.
"The total length of the completed double track as at today is 45.245 kilometres," he said.
He said the project was awarded on May 25, 2007 to China Civil Engineering Construction Corporation for the final construction of Lots 1 and 3.
He said the cost of the project was $841. 645 million with completion period of 48 months.
"This consisted of approximately 60.67 kilometres of standard gauge double railway track and associated permanent way within FCT.
"In Aug. 2012, due to deficiencies noticed in the estimations, the scope of the contract was varied to $823, 540 million for the final design and construction of Lots A1 and 3.
"The project has attained about 84. 33 per cent completion as at Dec. 2016," he said.
The acting secretary stressed that the total length of double tracks of 45.245 kilometres has reached 98 per cent completion.
Suleiman said 12 stations had reached 75 per cent completion, 50 culverts 100 per cent completion, nine pedestrian overpasses had also reached 85 per cent completion.
He said 13 railway bridges were 100 per cent completed, 15 flyover bridges 80 per cent completed, locomotive and rolling stone stock depot also reached 85 per cent completion, communication 67 per cent and signalling at 87 percent completion.
Suleiman said, "The projected date of the completion of the project is Dec. 2017.
"The feasibility study and conceptual design for the remaining lots 4, 5 and 6 are under procurement.
"These lots are available for concession under a Design, Build and Operate (DBO) basis."
Copyright Ships & Ports Ltd. Permission to use quotations from this article is granted subject to appropriate credit given to www.shipsandports.com.ng as the source.