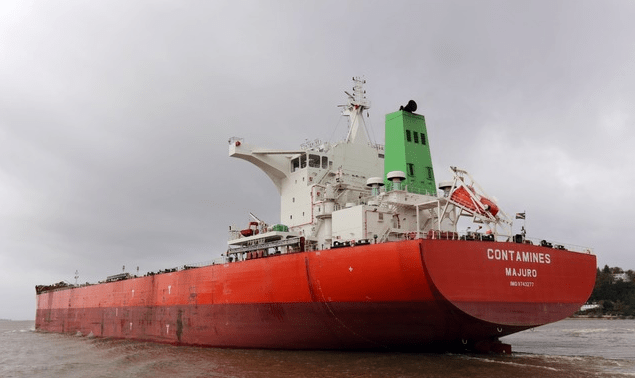 Singaporean firm, ADK Maritime, has explained its role and position with regards to the repatriation of crew members of the bulk carrier named Contamines by the International Transport Workers' Federation (ITF).
ITF said last week that it had to repatriate the fatigued crew members of the South Korean-owned bulk carrier after the seafarers downed their tools after working on board with expired contracts and approaching a year at sea.
ITF said the crew members were stuck on the ship as their repatriation was delayed due to COVID-19 travel restrictions.
The workers' union claimed that ADK Maritime, which is the ship's technical manager, promised to relieve the crew on several occasions but failed to meet the promise as certain ports started to open up to crew changes.
"ADK Maritime had cut all salaries since the day the crew stopped working, despite the repatriation delay being almost entirely the fault of the company," ITF had said. 
But in a statement it emailed to SHIPS & PORTS, the company denied the allegations by ITF. 
The statement dated 25th August 2020 and signed on behalf of the company by its Operations & Marine Manager, Capt John Gavalas, reads in part: "We wish to point out that our company attempted in good faith to make crew changes, but circumstances were prohibitive due to the COVID-19 pandemic related travel and other restrictions. 
"We stress that at all times we have acted within the spirit and letter of the ILO's 'Information Note on Maritime Labour Issues and Coronavirus (COVID-19)' Revised version 2.0, dated 10-July-2020,which states that "a pragmatic approach is needed to enable seafarers to remain on board for a reasonable period beyond their scheduled tours of duty". In the case of the striking crew of Contamines, such a pragmatic and reasonable approach has not been seen. 
"We submit that the strike orchestrated by the crew members was unlawful according to the ship registry's law, for reasons including lack of timely 30 day notice, against the better interest of all parties involved and against what is suggested by the ILO's STC. We point out that all our employment contracts are signed by the crew by their own will. Employers cannot force anyone to sign a contract.
The company also said that it had successfully carried out crew changes at various ports including Dampier, Australia; Jingtang, China; Zhoushan, China and Tianjin, China.
The company said it stopped paying the salaries of the Contamines crew "when they began an illegal strike" even as it stated that the vessel was never detained and arrested by Port State Control.