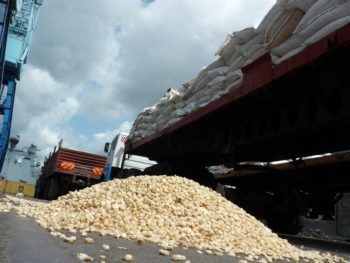 The All Farmers' Association of Nigeria (AFAN) on Tuesday warned the Federal Government against importation of maize into the country.
The Chairman of the Kaduna State chapter of AFAN, Alhaji Nuhu Aminu, gave the advice in an interview with News Agency of Nigeria (NAN) in Zaria.
He said that maize importation would be inimical to the Agricultural Transformation Agenda (ATA) of the Federal Government.
He noted that farmers across the country had invested heavily in agriculture, with little or no subsidy from government.
"President Muhammadu Buhari directed us to go back to the farm; we have actually accepted the directive in good faith.
"But to our greatest dismay, the Federal Government is now importing maize from outside; we learnt that a ship, laden with 50,000 tonnes of maize, had recently arrived Nigeria," he said.
Aminu however, appealed to the Acting President, Prof. Yemi Osinbajo, to look into the matter, with a view to proffering solutions to the problem.
He said that the intervention of the acting president was imperative because any attempt to sell a 100kg.-bag of maize below N8,000 would not be profitable to farmers.
"Importation of maize will never encourage farmers; rather, it will discourage not only the lazy ones but also the active farmers.
"With encouragement, Nigerian farmers will be able to feed the nation and actualise the Federal Government's Agricultural Transformation Agenda.