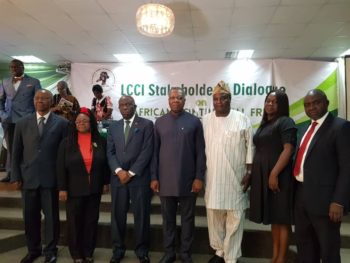 The Nigerian Office for Trade Negotiation (NOTN), on Thursday, said the African Continental Free Trade Agreement (AfCFTA), will help in addressing the issue of unemployment, market access and economic growth for Nigeria and Africa.
Director-General of NOTN, Amb. Chiedu Osakwe, made this known during a stakeholders' forum facilitated by the Lagos Chamber of Commerce and Industry (LCCI), on AfCFTA in Lagos.
AfCFTA an initiative of the African Union (AU), seeks to create a single continental market for goods and services, as well as a customs union with free movement of capital and business travellers.
Osakwe noted that about one million Nigerians and an estimated 18 to 20 million Africans enter the job market yearly, adding that AfCFTA would not only address unemployment issues but deepen intra-Africa trade and regional integration for economic development.
He noted that AfCFTA was much more than a trade agreement but about strategically reorganising the geo-economic landscape of Africa, Nigeria's leadership position, competitiveness and modernisation.
Osakwe stressed that certain provisions were placed in the articles of agreement to safeguard local economies, especially manufacturers and SMEs.
According to him, Exclusive and Sensitive list, Modification of Schedule, Trade Remedies which addresses issues of anti-dumping, Special Economic Zones and Infant industry protection, serve as some of the provisions.
The President of LCCI, Babatunde Ruwase, said that Nigeria's argument for not signing AfCFTA was the fear of numerous bilateral trade agreements of some AU countries with the rest of the world and Nigeria's underdeveloped industrial and infrastructural sector.
He argued that this will make Nigeria a dumping ground due to our uncompetitive manufacturing profile, market size and population.
Ruwase said, "These are legitimate concerns; it is therefore imperative to deepen consultation across all sectors, in order to address these genuine concerns from stakeholders."