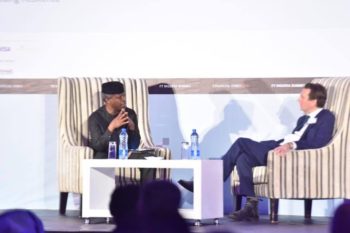 Vice-President Yemi Osinbajo on Thursday said Nigeria did not sign the African Free Continental Trade Agreement (AfCTA) because the Federal Government wanted the concerns of the private sector addressed.
Osinbajo stated this at the FT Nigeria Summit in Lagos.
He noted that the private sector was not happy with the specifics of the agreement.
He said, "With the free trade agreement, you know Nigeria is an important market. There are some states waiting to tap into that big Nigerian market.
"Nigeria has one of the most vibrant private sectors and many felt as we went into the process that sufficient consultations hadn't been done.
"Manufacturers association in particular and several others felt that we shouldn't go into it without further consultations and they wanted to know exactly what the specifics would be in terms of negotiations that will follow the signing of the framework.
"It was the president's opinion that it would be much wiser to suspend the signing until such a time when all these engagements were done to the satisfaction of the private sector.
"We work very closely with the private sector and we felt that it would be wrong not to satisfy that particular sector and the complaints that they had."
At the 2018 African Union summit, 44 African countries signed the agreement which is the largest since the creation of the World Trade Organisation in 1995.