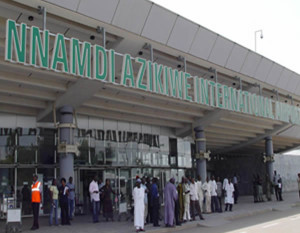 The Federal Airports Authority of Nigeria (FAAN), has disclosed that it has detected over 95 percent of travellers who had high fever as they travelled through the Nnamdi Azikiwe International Airport, Abuja.
The discovery was said to have been made at the Nnamdi Azikiwe International Airport, Abuja.
FAAN in conjunction with other agencies of government at the airport, had established a public health emergency contingency plan at the Abuja airport and other key international airports in the country in order to effectively guard against the disease. The agency said this was to avoid the re-emergence of the dreaded Ebola virus in Nigeria.
The Head of Medical, FAAN, Dr Adamu Adamu, disclosed this during a media tour of the Abuja airport on Wednesday, where hundreds of passengers and crew members on-board Emirates Airlines, including the Minister of State for Aviation, Senator Hadi Sirika, were screened with the thermal camera and hand temperature detector.
He said, "In this airport, we have a public health emergency contingency plan that we developed in conjunction with the Port Health Services of the Ministry of Health and our partners, Pro-Health International. I am sure you are all aware of the outbreak of Ebola in Congo, which has moved from the rural areas, where it started, towards Kinshasa.
"Because Kinshasa is a hub, it has become a serious concern and the world is probably in trouble. Right now, the World Health Organisation has not declared public health emergency of international concern over the case, but Nigeria has to be proactive because of our previous experience."
Adamu said what the officials are doing is not an Ebola scan but scanning for high-temperature fever so that any passenger with high temperature will be taken for proper checks.
He said, "We are looking at the temperature scan. We are also looking at the travel history of passengers. We have sanitisers that have been positioned in strategic areas so that passengers who are coming into Nigeria will have facilities to clean up their hands. I can assure you that over 95 percent of people that come to this airport with high fever are detected and picked up."
The Northern Regional Manager, FAAN, Sani Mahmud, stated that surveillance and screening for Ebola virus and other infectious diseases had not stopped in all Nigerian international airports since the virus first entered the country in 2014.
He said the agency had always ensured that all equipment such as the thermal camera, screening monitors, hand temperature detectors and hand sanitisers were fully operational.
Mahmud stated that FAAN's medical department, Port Health Services and Pro-Health International had intensified their level of synergy since the outbreak of Ebola in the Democratic Republic of Congo on May 8.