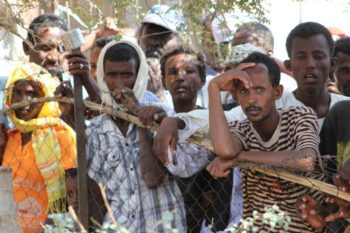 As part of its voluntary return programme, Libya's immigration department said it has repatriated 221 illegal immigrants from African and Asian countries.
The department in the statement said that 163 Somali nationals had left for their home country on an aeroplane of local airliner Al-Buraq.
It noted that the deportation was in cooperation with the International Organisation for Migration (IOM).
"This is the first direct flight to leave Tripoli's M'etiga international airport to the Somali capital Mogadishu," the department said.
The department added that 30 migrants from Bangladesh and 28 from Pakistan were sent to their countries of origin.
Libya is a preferred point of departure for illegal immigrants hoping to cross the Mediterranean toward European shores because of insecurity and chaos in the country following the 2011 uprising that toppled former leader Muammar Gaddafi.
The voluntary return program is carried out by the IOM in Libya to help illegal immigrants stranded in Libya return to their countries of origin.
Some 20,000 illegal immigrants returned home via the program in 2017.
Agency Report