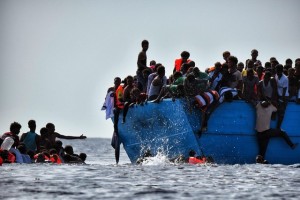 EU leaders meeting in Malta on Friday will face the challenge of how to work with a chaotic Libya and reluctant sub-Saharan African countries to prevent a feared upsurge of migrant smuggling to Europe.
Here is how the central Mediterranean smuggling route that runs mainly from Libya to Italy will focus minds at the European Union summit in Valletta:
– Main route –
Concern has shifted from the Aegean route since a March 2016 EU-Turkey deal to stop migrant flows slashed the number of people landing in Greece after fleeing war and persecution in the Middle East.
Though far fewer than the hundreds of thousands who had arrived in Greece before the deal, a record 180,000 migrants landed in Italy last year while some 4,500 died trying to reach Europe's shores.
The migrants travelling via North Africa, the vast majority through Libya, come especially from sub-Saharan countries: 21 percent from Nigeria, 11 percent from Eritrea as well as seven percent each from Guinea, Ivory Coast and Gambia, according to the European Commission.
Unlike Syrians, most are deemed illegal economic migrants who are seeking jobs rather than fleeing war and persecution. They are usually ordered sent home.
– 'Sophia' –
In 2015, the EU launched "Operation Sophia", a naval mission in international waters to crack down on smugglers. It has seized hundreds of rickety boats, helped arrest around a hundred suspected smugglers and rescued more than 32,000 people.
But it cannot operate in Libyan waters, limiting its effectiveness in stopping smuggling boats leaving the coast.
In fact some European officials fear that "Sophia" actually encourages migrants because they know they stand a good chance of being rescued by EU navies and taken to Italy as soon as they leave Libyan waters.
– All eyes on Libya –
Barred from Libya's waters, the EU is betting on the support of the country's coast guard to crack down on the smugglers and then take migrants back to their shores.
"Sophia" has been training and equipping Libyan coast guard officers since October, and EU leaders will examine Friday a proposal to release new funds to train them as well as give UN agencies the means to help the Libyans look after the migrants.
But a possible Turkish-style deal with Libya is much less likely. The UN-backed Libyan unity government is locked in a power struggle with a rival administration in eastern Libya as it seeks to end years of lawlessness following the 2011 overthrow of Moamer Kadhafi.
A European diplomat said the most that can be done is to help the unity government stablise the country and ensure the proper treatment of migrants.
– Reluctant African countries –
The EU is now looking for the cooperation of Libya's north African neighbours Egypt, Tunisia and Algeria while pursuing its "compacts" with countries south of Libya.
In 2016, it opened talks with Senegal, Mali, Nigeria, Niger and Ethiopia to offer them development aid in a bid to encourage more of their citizens to stay home.
It is also urging them to readmit more of their nationals expelled from Europe.
However, these countries are reluctant to take them back for fear they would lose large sums in worker remittances from Europe. As an inducement, the EU seems ready to open legal channels of migration to Europe.
– Return migrants? –
To discourage migration, some Europeans no longer hesitate to raise controversial ideas like sending migrants rescued at sea to "safe places outside the EU," presumably in north Africa, rather than taking them to European shores.
The reception centres outside the EU would then be used to determine who can be admitted to Europe as a refugee or rejected as an illegal migrant.
But the EU risks falling foul of rights groups at best, and at worst of international law on returning people to unsafe countries.