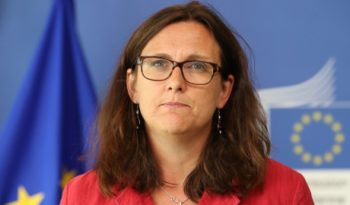 The European Union's Trade Commissioner, Cecilia Malmstrom, on Thursday said she hopes an EU mission to Washington will ease a transatlantic trade dispute.
She said the bloc is preparing a list of U.S. imports to hit if the United States imposes tariffs on EU cars.
Malmstrom will travel to Washington on July 25 with European Commission President Jean-Claude Juncker, with the latter due to hold talks focused on trade with U.S. President Donald Trump.
The United States imposed tariffs on EU steel and aluminium on June 1 and Trump is threatening to extend them to EU cars and car parts.
Malmstrom said the U.S. car sector was healthy and that no one involved in the sector had called for tariffs.
"We are preparing together with our member states a list of rebalancing measures there as well. And this we have made that clear to our American partners," Malmstrom told a conference hosted by the German Marshall Fund of the United States in Brussels.
The EU has already imposed its own import tariffs on €2.8 billion ($3.25 billion) worth of U.S. products ranging from bourbon to motor-bikes.
Corresponding measures for cars would be far higher.
EU steel and aluminium exports to the United States, which are now subject to tariffs, are worth some €6.4 billion per year. EU car and car part exports are worth €51 billion.
The Commission on Wednesday briefed representatives of EU countries on possible action.
One EU diplomat familiar with Wednesday's talks said the Commission gave no examples of U.S. products that might be hit but said they could in theory total €9 billion, although it could also go for a larger list of products with lower tariffs.
Trump's top economic adviser, Larry Kudlow, said on Wednesday he expected Juncker to come with a significant trade offer. EU officials have downplayed suggestions Juncker will arrive with a novel plan to restore good relations.
Some reports have said that a multilateral deal to remove car tariffs was one idea put forward. Malmstrom on Thursday questioned the viability of such a plan and also said a bilateral deal with the United States to scrap car tariffs could only be done if part of a broader trade agreement.
"The aim of President Juncker's visit is to try to establish a good relations, try to see how we can de-escalate the situation, avoiding it going further and see if there is a forum where we can discuss these issues," Malmstrom said.
Agency Report