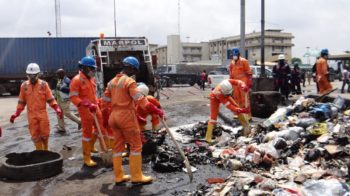 The Lagos State Government, Nigerian Ports Authority (NPA), Nigeria Union of Petroleum and Natural Gas Workers (NUPENG) and other stakeholders on Wednesday pledged to work together to sustain the ongoing effort to sanitise the Apapa area of the state.
The stakeholders made the pledge at a meeting in Apapa by the Lagos State Ministry of the Environment (MOE), NPA, NUPENG, Tank Farm Owners, National Association of Road Transport Owners (NARTO), Community Development Associations (CDAs) and Apapa Local Government.
The Special Adviser to the Governor on the Environment, Babatunde Hunpe, who chaired the meeting said the meeting was to foster ownership of the sanitation initiatives in the area.
He said following the pervasive disorder and attendant environmental infractions in the Apapa area of the state, the Lagos State Government, through the Ministry of the Environment, had intervened to restore sanity in the environment.
The Special Adviser noted that the cooperation of all stakeholders was necessary to achieve a clean environment and restore the beauty of the area.
Hunpe said that the concerned associations within the port community should come together to form a strong team that would own and sustain the ongoing efforts of the government.
To address indiscriminate waste disposed along the road, he stated that government had decided to add two additional Waste Collection Operators to mop up waste from the road, in addition to the placement of refuse bins at strategic locations.
Hunpe noted that several environmental infractions such as littering and open defecation were outcomes of the undue presence of trailers on the road.
He said, "under normal circumstances, the expressway ought to be free but because of the anomalies in this area which keeps trailers perpetually on the road, drivers, together with hawkers who have taken advantage of the situation, have contributed largely to the abuse of the environment"
He urged all stakeholders to cooperate with commercial waste operators and ensure the provision of mobile toilets while urging NUPENG to enlighten tanker drivers on the values of clean environment.
Hunpe said the Ministry of the Environment would also prevail on the Public Works Corporation to assist in clearing the drainage.
Earlier, the Port Manager, Tin Can Island, Engr. Emmanuel Akparere had thanked the Lagos State Government for its efforts and promised to rally all stakeholders to ensure a cleaner Apapa, stressing that the State Government had done well for demonstrating concern for the wellbeing of Lagosians.
He noted that the NPA had identified the root cause of the degeneration of the environment to be non-provision of holding bays by the shipping companies and had commenced strategies to ensure the provision of this important facility, adding that the end of such situation in which trailer overtook the road was in sight.