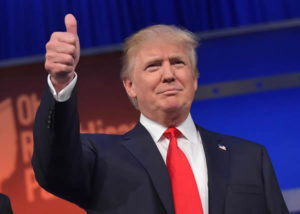 As trade and economic experts across the globe continue to make predictions of possible outcome and effects of the government of America's President-elect, Donald Trump, a former Secretary-General of the Maritime Organization of West and Central Africa (MOWCA), Magnus Teye Addico has said that Trump's decision to reduce taxes on US companies so that they remain in the US, as well as have other American companies abroad return home could open up a new vista for influx of American goods in African countries.
In an exclusive chat with SHIPS & PORTS DAILY, the revered frontline Ghanaian economist and statistician, with specialty in maritime and shipping, said a reduction of company tax by the Trump government might mean US goods may become cheaper and hence positively influence Africa's import trade from the US.
"I believe current world trade trends are not likely to change in the short term. Changes will definitely take place medium to long term when the trade pacts begin to reshape. The future for Africa is improved intra-African trade.
"Trump wants to reduce taxes on US companies so they remain in the US. This may mean US goods may become cheaper and hence positively influence Africa's import trade from the US," Addico said.
Addico who was also pioneer Chief Executive of the Ghana Shippers' Council, however noted that when this happens, the extent of African import trade with US would depend on counter trade incentive from China and the European Union (EU).
"Exports from Africa may improve if Trump abrogates North America Free Trade Agreement (NAFTA) and other pacts as he said he will do," he noted.
The North American Free Trade Agreement, or NAFTA, is a three-country accord negotiated by the governments of Canada, Mexico, and the United States that entered into force in January 1994.
Trump has indicated he would restrict exports from China into US and he is also said to have laid out policy positions on a few topics such as health care, trade with China and taxes, but those plans have been assailed by critics as vague, grandiose or politically unfeasible. Trump's detractors also contend that the billionaire's plans, especially his proposals to cut individual and corporate taxes and impose major tariffs on Chinese exports to the United States which would cost trillions of dollars.
"My advice to African governments and shippers is that they widen their trade horizon and shop for the best across the world. Loyalty trade systems must be reviewed. Go for only the best wherever that may be found," Addico said.
Copyright 2016 Ships & Ports Ltd. Permission to use quotations from this article is granted subject to appropriate credit given to www.shipsandports.com.ng as the source.