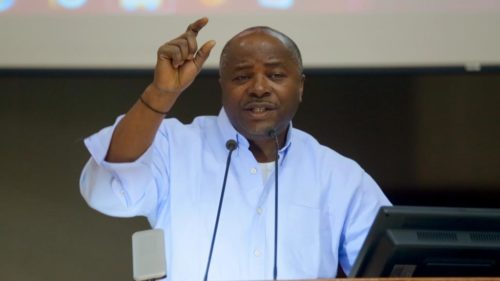 Except Africa takes agriculture seriously, the continent may need about $110bn to import food by 2025, up from the current $35bn.
The Director General of the International Institute of Tropical Agriculture, Dr. Nteranya Sanginga, said this while addressing members of the Board of Trustees of IITA and researchers during the 2016 Partnership for Development Week in Ibadan.
Sanginga emphasised that the neglect of agriculture would cost $110bn in terms of food imports by 2025 to feed Africa, up from the current $35bn.
"Besides, a failure to invest in agriculture would deprive the continent of necessary jobs and further fuel the spiralling rate of unemployment among the youth," he warned.
He acknowledged that though some African governments have come to the realisation that agriculture was one of the ways to save the continent from poverty, most countries were not investing enough in the sector.
"Take, for instance, the commitment to invest at least 10 percent of national budgets on agriculture. Not many countries are meeting this goal," Dr. Sanginga lamented.
He commended the African Development Bank for the new initiative — Technologies for African Agricultural Transformation — to transform agriculture on the continent.
He said the TAAT programme is a new initiative of the AfDB in collaboration with the Consultative Group on International Agriculture Research, under the Feed Africa Initiative, to drive agriculture development on the continent.
"Through the TAAT programme, the Bank aims to invest more than $800m in the agriculture sector. The funds would be channelled into upscaling of proven innovations that will improve the fortunes of farmers and address the twin problem of food insecurity and unemployment," Sanginga said.
He assured that IITA will continue to respond to the needs of Africa by developing innovations that will provide answers to Africa's food insecurity.
"To this end, IITA will be demonstrating its scientific leadership not only in terms of qualitative research in the lab, but also impact in farmers' fields," he said.
Chair of IITA Board of Trustees, Prof. Bruce Coulman, commended Sanginga for the efforts in repositioning IITA for the challenges ahead, stressing that the Board was convinced that IITA is in safe hands.
The P4D Week is an annual event that brings together more than 200 international researchers working for IITA across the world to review, share experiences and plan for the way forward.
Deputy Director General, Partnership for Delivery, Dr. Kenton Dashiell, said the P4D week's emphasis for the year was not just on research but also on delivery at scale.
Copyright Ships & Ports Ltd. Permission to use quotations from this article is granted subject to appropriate credit given to www.shipsandports.com.ng as the source.