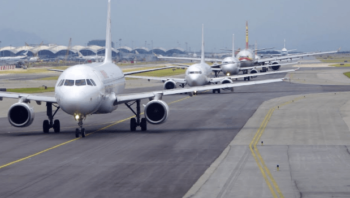 The International Air Transport Association (IATA) has said that African airlines recorded a 6.3 percent increase in passenger traffic in February 2018 compared to the same period last year.
This was contained in a statement on Thursday signed by IATA Director-General, Alexandre de Juniac.
According to him, the increase was due to improved regional economic growth.
"Business confidence in Nigeria has risen sharply over the past 15 months while a reduction in political uncertainty in South Africa has contributed to an improvement in business confidence there, for the first time in more than a year.
"Also, capacity rose by 3.3 percent, and load factor climbed 1.9 percentage points to 67.8 percent," de Juniac said.
He further said that global passenger traffic results for February 2018 showed a rebound in traffic growth, following slower demand experienced in January, owing to temporary factors.
The total Revenue Passenger Kilometres (RPKs) for the month rose by 7.6 percent, compared to February 2017, up from 4.6 percent year-over-year growth in January.
The IATA boss said that monthly capacity (available seat kilometres ) increased by 6.3 percent, and load factor rose 0.9 percentage point to 80.4 percent, surpassing the previous record of 79.5 percent set in February 2017.
"As expected, we saw a return to stronger demand growth in February after temporary slowdown in January. This is being supported by the robust economic backdrop and solid business confidence.
"However, increases in fuel prices as well as cost of labour in some countries are not likely to impact positively on lower airfares this year," de Juniac said.
He noted that there was a positive picture of growth in demand for aviation connectivity all around the globe.
"Aviation is the business of freedom, enabling people to live better lives. Aviation has helped to lift millions from poverty.
" However, for aviation to deliver greater benefits in future, adequate and affordable infrastructure is a must," de Juniac added.