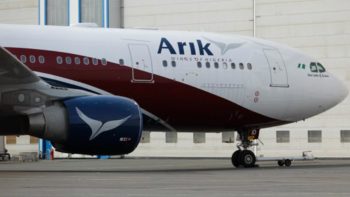 The Asset Management Corporation of Nigeria (AMCON) on Monday said Arik Air, under its previous management, owed the International Air Transport Association (IATA) $78m.
The Media Consultant to Arik Air, Simon Tumba, gave the figure while speaking with newsmen in Lagos.
The airline was on February 9 taken over by the Federal Government under the auspices of AMCON as a result of its huge debt profile.
AMCON appointed Capt. Roy Ilegbodu, a veteran aviation expert, to manage the airline under the receivership of Mr Oluseye Opasanya (SAN).
Tumba said the debt was for all aviation services provided under the platform of IATA, which recently suspended the airline from its Billing and Settlement Plan (BSP) and Cargo Account Settlement System (CASS).
He said, "Arik Air under the former management was owing everywhere they operated. Apart from the over N300bn owed to AMCON, the airline also owes about N50bn to Nigerian banks and another $78m to IATA.
"The airline was also in credit to their fuel suppliers and was not able to pay staff salaries for months.
"There was no good corporate governance in Arik as most decisions were single-handedly taken by the executive chairman."
According to him, out of the almost 30 aircraft in the airline's fleet, only about 10 are currently serviceable, which made the new management to reduce its routes and flight operations.
He said that the new management also discovered that Arik had no record of gains and losses of operations carried out in 2015.
Tumba said the management in collaboration with AMCON had appointed KPMG to carry out a forensic audit on the airline, and the result would be out in 10 weeks.
He said, "AMCON is not interested in liquidating Arik Air. We believe that the airline, which has one of the youngest fleet in Africa, can be turned around through good corporate governance and financial discipline.
"The current management is looking at the backlog of salaries owed staff because the staff should be motivated to get the airline running properly.
"The current management is working with the government to add five aircraft to the fleet to increase its size and the airline's routes.
"We have also resolved the issue of fuel supply, which has improved Arik Air's flight operations since the takeover."
Copyright Ships & Ports Ltd. Permission to use quotations from this article is granted subject to appropriate credit given to www.shipsandports.com.ng as the source.