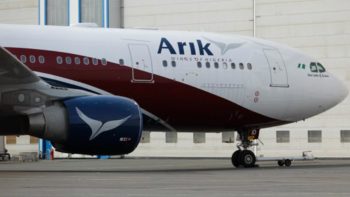 The Asset Management Corporation of Nigeria (AMCON) is shopping for investors for troubled carrier Arik Air.
AMCON told the Senate Committee on Banking, Insurance and other Financial Institutions that Nigeria's biggest airline would have stopped flying within the next three weeks if it did not intervene.
AMCON, on February 9, announced the removal of the Arik Air management and appointment of a receiver-manager.
Committee Chairman Rafiu Ibrahim noted that it appeared that the takeover of the airline was belated.
AMCON Managing Director, Ahmed Lawan Kuru, who briefed the committee, said that contrary to some claims, Arik owed AMCON N147 billion.
Kuru also said the airline owed some local banks over N165 billion. Foreign debts, he said, stood at $81 million.
The airline owes over 2,000 staff between six and seven months salary arrears, Kuru said.
The AMCON boss noted that negotiations were ongoing on how to immediately resolve the salary arrears.
Kuru said the airline had 30 aircrafts, but only 10 were in operation.
The AMCON boss noted that prior to the interim takeover of the airline, it was obvious that it could no longer meet its financial obligations.
He said the airline frequently relied on collection of fares from passengers before it could buy such basic things as aviation fuel.
Kuru insisted that it was obvious that the incessant cancellations and delays of flights was as a result of the airline's inability to buy aviation fuel.
He dismissed the insinuation that the Federal Government was planning to make Arik Air a national carrier.
Insisting that there was no plan to make the airline a national carrier, Kuru described it as "too problematic for the government to handle."
He said: "Despite all the things we have done to ensure that Arik Air stays in business, they have not done their part in meeting their own obligations. Arik Air is owing up to seven months salaries.
"They have refused to pay salaries and also refused to ensure that their loans are repaid. We could not just sit back and allow an important airline with about 30 aircraft and covers 55 per cent of all routes in Nigeria to go down. From the records, Arik makes over N7 billion annually.
"We are talking to people to see how they can acquire the airline. They came. But when they saw the records of what was on ground, they decided to suspend everything, pending when we will resolve some of the issues bedeviling it.
"We have deployed people there to manage it, pending when we can stabilise it and then bring in investors to take over. We discovered that out of the 30 aircraft of the airline, only about 10 were functional. Some of them were not in Nigeria. They have refused to meet all their obligations, even the insurance payment. They did not even have money to buy aviation fuel.
"What they did was that they collected money from passengers and then quickly use the monies realised to buy fuel. This is how they have been running the place and these were some of the things we met on ground.
"The first thing we did when we moved in was to address the payment of salaries of staff. Remember some of them were owed for up to seven months. The staff of the airline are very pleased with what we have done.
"We are hopeful that with an annual profit of about N7 billion and if the monies are not laundered, I think we can pay back the loans in time. AMCON debt is about N147 billion. There are local banks which Arik Air is owing about N165 billion. These banks collect all the monies they make.
"The issue of converting the airline to a national carrier is not on the table. Arik is too complicated to make a national carrier. The total asset worth of the airline right now is less than N40 billion.
"Government does not have plans to do that. The interest of government is that we must continue to fly and people must work. They have about over 2,000 staff.
"They do not need more than N10 billion to stabilise their operations. Within the next three months, they will be able to pay back what we have put in right now. In national interest, Arik Air should be allowed to fly."
The AMCON boss said: "Within the next two to three weeks, Arik Air should have up to 15 or 16 aircraft flying. Arik Air cannot compete internationally. They do not have the kind of services other airlines have."
Kuru said the suspension of international flights became necessary because the airline cannot cope.
He said the airline spends about N1.6 billion on aviation fuel on 12 international destinations.
He said AMCON is certain that the airline lacked the capacity for international flights.
He said: "We are thinking of suspending international flights. Arik Air needs about N1.6 billion to buy fuel for international routes. We cannot do that right now. By the time we manage it for about six months and the airline can now survive, then we can sit down and talk about where to go from there.
"Based on what we have achieved in just one week, we are hopeful that in the next three weeks, the issue of delayed or cancelled flights will be things of the past.
"We are carrying everybody along. At the end of the day, we want to return it to profitability. We need to emphasise one fact – that the only way we can recover our debts is for Arik Airline to continue to fly. The banks have come to realise that this is important.
"Government has a responsibility to ensure that it intervenes whenever there is any threat to national interest. Within the next 30 days, we will be going to places we have not been to in the last three years."
The committee praised the move to take over the airline by AMCON.
It, however, noted that the takeover time appeared to be belated.
Senator Rafui Ibrahim compared what he described as the mess in the airline with the alleged fraud perpetuated by the immediate-past National Security Adviser (NSA), Col. Sambo Dasuki.
He said: "Was the takeover not done rather too late? From what you have given us, this is worst than Dasukigate. It appears what is happening in private sector is worst than that of the public sector."
The AMCON boss said that the Central Bank of Nigeria (CBN) was prepared to support the turnaround of Arik Air.
Kuru also said: "In line with AMCON's statutory mandate, the non-performing loans of Arik Air were acquired in 2011 from two banks:
"Union Bank Plc N71billion, Keystone Bank Limited N14billion (transaction originated by defunct Bank PHB). Total amount N85billion
"The facilities were granted to Arik for purchase of additional aircraft and to refinance existing term loans. The default in repayment posed systemic threat to the banks and indeed the Nigerian economy.
"The principal promoter of Arik Air is Sir Johnson Arumemi-Ikhide. Apart from AMCON, Arik is also currently indebted to other commercial banks, including Standard Chartered, Zenith Bank, Ecobank and Access Bank, to the tune of N165billion.
"N26billion is owed to the Federal aviation agencies and regulations. $11million is owed to European aviation agencies and service providers. $20million owed to Lufthansa Technique.
"AMCON also acquired three other non-performing loans of companies in which the principal promoter is Sir Johnson Arumemi-Ikhide.
Rockson Engineering (N107billion), Ojemai Farms Limited (N8.6billion). Ojemai Investment Limited (N1.9billion). Total exposure of Sir Arumemi-Ikhide to AMCON is N263. 7 billion.
"In September 2011, AMCON restructured Arik's debt from N85 billion to N70 billion as a nine-year term loan running at 12% per annum. ' Other terms of the restructure included the following:
"AMCON to appoint a resident Monitoring Manager who shall have the authority to call for any of Arik's records for examination.
"Arik to provide three-year record of its remittances to FAAN.
"Arik defaulted on the term of the restructure and failed to make the monthly repayment as agreed.
"In May 2013 AMCON sourced N26billion of the CBN/PAIF through BOI on behalf of Arik.
"AMCON disbursed N21.38billion of the BOI loan to Arik as working capital.
"Out of this amount, N2.4billion was meant for reconfiguration of two aircraft from passenger to cargo carriers. This was never done as the funds were diverted by Arik management and is now the subject of EFCC investigation. Both aircraft were abandoned in the UK.
"In December 2015, due to accrued interest and unpaid principal, a second restructuring was proposed for Arik debt to reduce the debt from N138billion to N90billion.
"Proposal awaiting CBN approval.
"This was proposed based on Arik's plan to do a private placement and subsequently do an IPO within a period of six months. Based on that, they were expecting N44billion from Afrexim as a bridge. None of this happened as Arik could not comply with any conditions given to them.
"In spite of the leniency and good faith demonstrated by AMCON throughout the negotiations, Arik refused or neglected to adhere to the terms of settlement.
"AMCON continued to bear the burden of repaying the B01 loan at 1% interest rate without any corresponding commitment from Arik. So far, AMCON has paid N9.05billion on behalf of Arik. Refusal to cooperate with the AMCON resident Monitoring Manager. Refusal to disclose financial information to AMCON.
"Total recoveries from Arik till date N4.6billion (only 3.2% of current exposure). Total repayment by Arik in the last 12 months- N50million only.
"As at December 2016, Arik's debt in AMCON stood at N146billion due to mounting interests and unpaid principal.
"The consolidated exposure of debtor-companies in which Sir John Arumemi-Ikhide is the principal promoter in AMCON stands at N263.7billion.
"This figure excludes Arik's indebtedness to other banks, aviation authorities (local and foreign), vendors, contractors and workers.
"As at December 2016, Arik's debt in AMCON stood at N146billion due to mounting interests and unpaid principal.
"The consolidated exposure of debtor-companies in which Sir John Arumemi-Ikhide is the principal promoter in AMCON stands at N263.7billion.
"This figure excludes Arik's indebtedness to other banks, aviation authorities (local and foreign), vendors, contractors and workers.
"Arik has about 30 aircraft, the largest fleet in Nigeria. Holds approximately 55-60% of the air transport market in Nigeria.
"Serves 18 domestic and 11 international destinations, including Johannesburg, London, Dubai, and New York City.
"Estimated revenue at N7billion monthly".
Copyright Ships & Ports Ltd. Permission to use quotations from this article is granted subject to appropriate credit given to www.shipsandports.com.ng as the source.