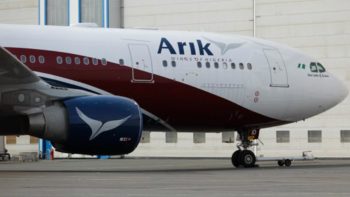 Arik Air has expressed dismay over the disruption of its operations by unions in the aviation sector on Tuesday, accusing them of using `strong-arm' tactics.
The National Union of Air Transport Employees, the Air Transport Senior Staff Services Association of Nigeria and the National Association of Aircraft Pilots and Engineers had on Tuesday embarked on a strike.
The unions embarked on the joint action following the airline's failure to pay seven months' salary arrears and other alleged anti-labour practices.
They said the industrial action would continue indefinitely until their demands were met by the management of Arik Air.
They shut down Arik Air's flight operations at both the local and international wings of the Murtala Muhammed Airport, Lagos and also barricaded the airline's corporate headquarters within the airport premises
But Arik, in a statement signed by its Communications Manager, Ola Adebanji, condemned the actions of the protesting unions, especially the prevention of staff from gaining access to their workplace.
It said access to the airport terminals was fundamental to the airline's operations for movement of its personnel to make ready and dispatch its aircraft for various flights.
The airline said, "The union leadership had earlier written a letter to the management of Arik Air on their grievances and a meeting had been scheduled between the two parties for Dec. 21.
"The unions, however, did not wait for the scheduled meeting or the outcome of the meeting before embarking on such disruptive and strong-arm tactics against the airline.
"The unions have demonstrated total disregard for the laws of Federal Republic of Nigeria by interfering in the operations of the airline and preventing airline staff from carrying on with their duties of handling the passengers booked for today's flights."
According to the statement, the decision not to join the aviation unions is that of the generality of Arik Air.
It noted that the management of the airline was not involved in any manner and neither could it influence such individual decisions in any form, since unionism was a free will and not a matter of compulsion.
It said, "Arik Air is appealing to all the security agencies, the Minister of Aviation, the Nigeria Civil Aviation Authority, the Federal Airports Authority of Nigeria and the Nigeria Airspace Management Agency.
"We are also calling on all the other stakeholders in the industry to prevail on these aviation unions to allow for operations to commence immediately since this unjustifiable disruption by the unions has already inconvenienced the travel plans of thousands of passengers today."
The airline apologised to its passengers for any inconvenience experienced due to the disruption by the unions.