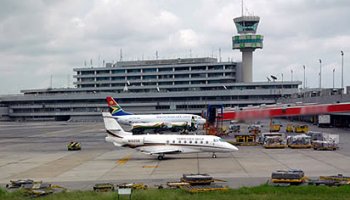 The Association of Nigeria Aviation Professionals and the Nigeria Union of Pensioners, FAAN Branch have rejected the recent ministerial directive that five per cent of the revenue collected by the Federal Airports Authority of Nigeria (FAAN) from Passengers Service Charge (PSC) should be remitted to the Accident Investigation Bureau (AIB).
The unions described the remittance as "trying to unlawfully rob FAAN to pay AIB when both are established by law stipulating their source of funding" in a letter dated July 7 and addressed to President Muhammadu Buhari was jointly signed by the Secretary General of ANAP, Abdul Saidu and NUP General Secretary, Emeka Njoku.
The unions urged the president to reverse the directive which was approved by the Minister of State (Aviation), Sen. Hadi Sirika, in the interest of safety and security for which FAAN is statutorily empowered.
"While we are not against the commissioner for requesting for more funds for AIB, we saw the approval and directive of five per cent PSC of FAAN to AIB as an abuse of office.
"Government-owned companies and parastatal agencies were established through enabling Acts, stating how funds or revenue could be provided.
"It is, therefore, dangerous now trying to unlawfully rob FAAN to pay AIB when both are established by law stipulating their source of funding," the union said.
According to them, yearly budgets are being prepared and defended by both FAAN and AIB based on their internally generated revenue .
The unions, therefore, maintained that for the minister to direct FAAN to be remitting 5 per cent from monthly PSC without passing through due process of law amounted to an outright illegality.
"We are aware that the United Nations Charter on aircraft accident investigation does not allow AIB to charge for services rendered as IGR.
"This is the reason why three per cent of total revenue derived from Ticket Sales Charges in addition to their yearly budgetary allocation from the government are the source for funding AIB."
The unions noted that while the reasons adduced for more funding for the AIB were cogent, it ought not to be at the expense of the already over-burdened FAAN.
They argued that FAAN, apart from having numerous financial needs, was not being funded by the Federal Government apart from interventions through capital projects approved by the Federal Executive Council.
"The approval and directive that FAAN should be paying AIB is to us an attempt to cripple FAAN as it was done to the defunct Nigerian Airways and, therefore, Mr President should please stop it.
"The minister knows very well that FAAN is being owed huge sums of revenue by airlines and concessionaires as a result of impunity and corrupt tendencies perpetuated under the former administration; that should be his major concern," the unions said. 
Copyright Ships & Ports Ltd. Permission to use quotations from this article is granted subject to appropriate credit given to www.shipsandports.com.ng as the source.