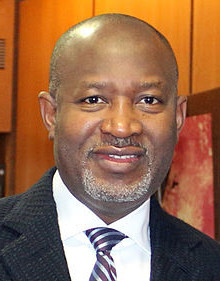 Two directors in the Accident Investigation Bureau (AIB) of the  Ministry of Aviation were removed today as significant changes  continued in the sector.
Removed and immediately replaced are Emmanuel Diala, the Director of  Engineering whose tenure expired in September 2016, and Yusuf Lawal,  the Director of Operations.
Taking their places are Hashimu Ilyasu Wali, as Director for  Engineering, and Dayyabu Mustapha Danraka, as Director of Operations.
The Ministry of Transportation through the Minister of State for  Aviation, Sen. Hadi Sirika, ordered the dismissals in a letter to the  Commissioner of AIB, Akin Olateru.
A statement by AIB spokesman Tunji Oketunbi explained that before  these changes, Danraka was the bureau's General Manager of Operations,  while Wali was an Aviation Safety Inspector with the Nigerian Civil  Aviation Authority.
However a Ministry source said that Diala, who had been at loggerheads  with successive Commissioners in his failed ambition to be appointed a  Commissioner in AIB, was supposed to be retained by the Ministry, but  the series of petitions he had written against the organisation and  former helmsmen in the agency gave him out and eventually led to his  disengagement.
Diala was engaged as a contract staff in 2007 as an Acting Director of  Engineering and was later promoted to a substantive role in 2012.
His single term of four years elapsed in September 2016, according to  the Conditions of Service in AIB, but his connections with some power  blocks in Abuja prevented his disengagement from office for another  six months.
Following the expiration of his tenure, AIB sought the Ministry's  advice on his continued stay in office, to which the Ministry was  silent until yesterday when it responded with the disengagement notice.
"Diala would have been retained by the Ministry, but when he (Sirika)  looked at his past and the several battles he had with past helmsmen  in the agency, it was concluded that he should be sacked so that he  would not come and create a problem for the incumbent," the source said.
He explained that Sirika had made up his mind to disengage Diala even  before the removal of Abali but was just taking his time.
"Also, his age too does not help the matter, as he's over 70 years  old. The government wants to give younger people more opportunities to  express themselves," the source added.