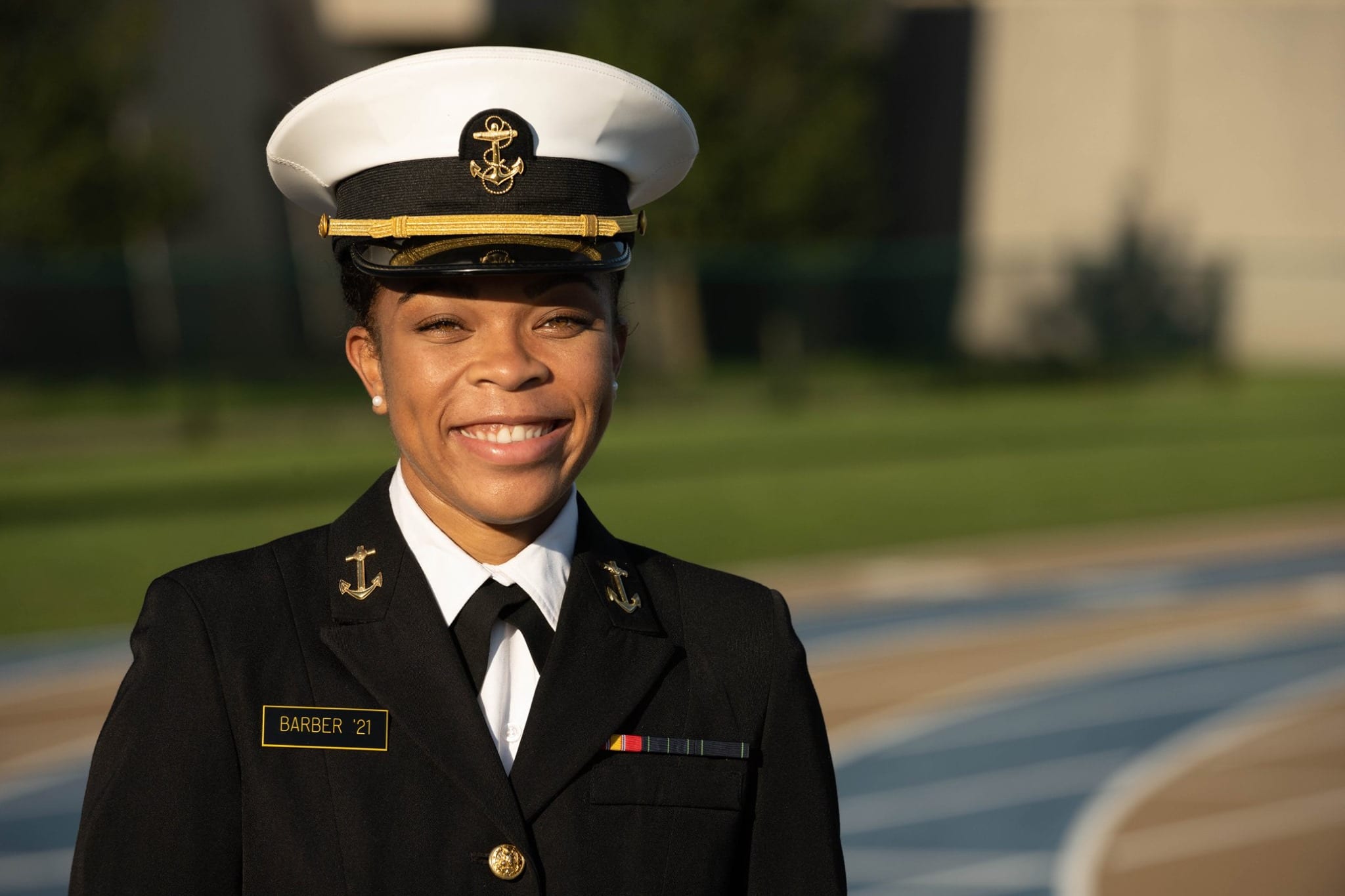 For the first time in the 175-year history of the United States Naval Academy, an African American female cadet has been chosen to the lead midshipmen as brigade commander.
Midshipman 1st Class Sydney Barber, of Lake Forest, Illinois, was named to the top leadership spot by the Commandant of Midshipmen on Friday.
As brigade commander, she will serve as the highest ranking midshipman and the only "six striper," which is reference to the collar insignia worn on the midshipman uniform.
The semester-long position is selected through an application and interview process by senior leadership from the Commandant's staff.
The first female brigade commander was then Midshipman 1st Class Juliane Gallina from the class of 1992, who served in the position during the fall of 1991.
Barber, a mechanical engineering major, will be the sixteenth woman selected for brigade commander in the 44 years women have been attending the Naval Academy.
As a walk-on sprinter and hurdler of the Navy Women's Varsity Track and Field team, Barber has lettered all three years of competing and is a USNA record holder for the outdoor 4x400m relay. She is also the co-president of the Navy Fellowship of Christian Athletes Club, secretary for the National Society of Black Engineers, and a member of the USNA Gospel Choir and Midshipman Black Studies Club. Barber served as the 13th company's executive officer this past Plebe Summer and currently serves as the brigade's 1st regiment executive officer.
"Earning the title of brigade commander speaks volumes, but the title itself is not nearly as significant as the opportunity it brings to lead a team in doing something I believe will be truly special," said Barber. "I am humbled to play a small role in this momentous season of American history."
The position of brigade commander is currently held by Midshipman 1st Class Ryan Chapman, who congratulated Barber for her accomplishment.
"She is a catalyst for action, a visionary, a listener, a doer, and a person driven by compassion, by faith, by a fierce sense of passion and heart full of love," said Chapman. "Sydney is the perfect person to lead the brigade."
"Sydney stands out amongst her peers, for not only her exemplary record, but for her clear vision of how she intends to make the world a better place and her accompanying bias for action. We were incredibly proud to have Sydney represent the Naval Academy in her Truman Scholarship interview this year," said Lt. Cmdr. Darby Yeager, a member of the U.S. Naval Academy's Truman Scholarship selection committee.
Copyright Ships & Ports Ltd. Permission to use quotations from this article is granted subject to appropriate credit given to www.shipsandports.com.ng as the source.