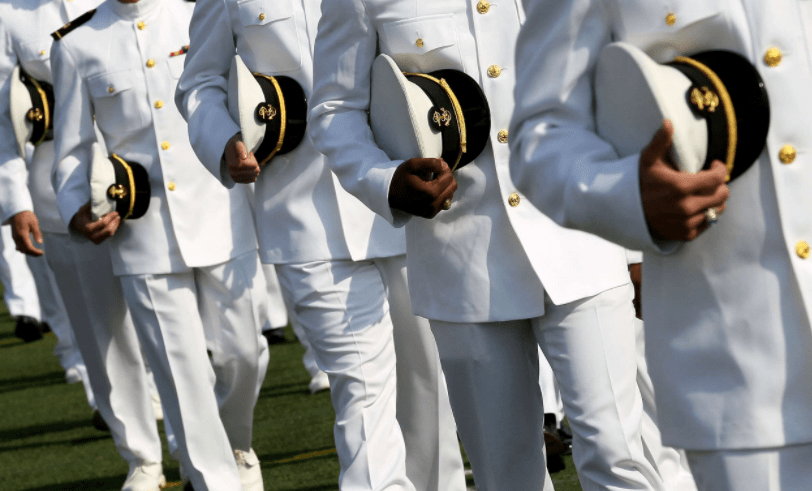 Eighteen midshipmen have been expelled from the U.S. Naval Academy in Annapolis after the federal service academy determined they had cheated on a final exam.
The final exam, SP211 General Physics I, was administered remotely through a website in December 2020 and taken by 653 midshipmen, most of whom were sophomores. Midshipmen were given written and verbal instructions against the use of outside sources, including other websites. However, USNA said it became aware of potential "improper use" of outside sources, including through post-exam discussions on an anonymous chat platform. The superintendent immediately directed an investigation, which found the 105 midshipmen were identified to have likely accessed unauthorized resources.
Ultimately, 18 midshipmen were "separated" from the Naval Academy. Another 82 were found to be in violation of the Honor Concept and face sanctions and a five-month probation period.
The investigation also found that the COVID-19 pandemic mitigation requirements forced "a position of flexibility" in the exam's administration. USNA is now strongly advising instructors to use paper-based, in-person exams, as well as other measure to prevent a recurrence of the incident. Midshipmen will now write out and sign an honor pledge at the commencement of each examination.
"Character development is an ongoing process and midshipmen must make the choice to live honorably each day and earn the trust that comes with a commission in the Navy or Marine Corps. This incident demonstrates that we must place an increased focus on character and integrity within the entire brigade," said Superintendent Vice Adm. Sean Buck.
Copyright Ships & Ports Ltd. Permission to use quotations from this article is granted subject to appropriate credit given to www.shipsandports.com.ng as the source.