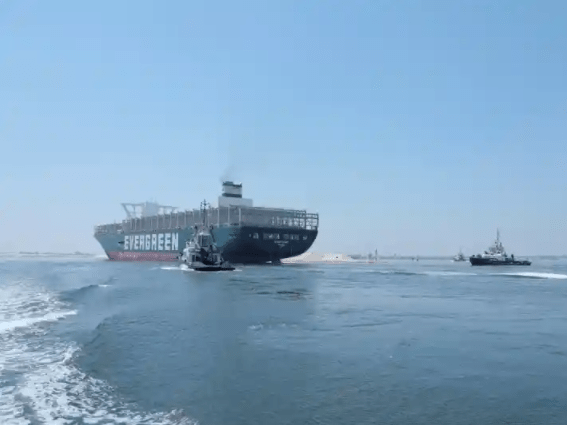 The Ever Given made its return to the Suez Canal on Friday on its backhaul voyage to Asia.
AIS as of 11 a.m. EDT shows Ever Given cleared from Canal waters in the Red Sea and making about 7.2 knots.
The 20,000 TEU capacity ship is sailing empty, having unloaded all of its cargo at European ports – the last call being Felixstowe. The ship is reportedly in need of repairs.
The Suez Canal Authority (SCA) said Ever Given was among a convoy of 26 vessels and sailed through the Canal with a group of SCA pilots on board and two tugs.
The Ever Given became one of the world's most famous ships earlier this year after becoming wedged in the Suez Canal back in March, effectively shutting the critical waterway to maritime commerce for six days. After being held for months amid a compensation dispute, she finally departed Egyptian waters headed to Rotterdam in July after an undisclosed settlement was reached between Suez Canal Authority and the Japanese ship owner, Shoei Kisen Kaisha.
With Ever Given's passage through Suez Canal now complete, the next time we'll see her she'll likely be full of cargo and headed back to Suez.