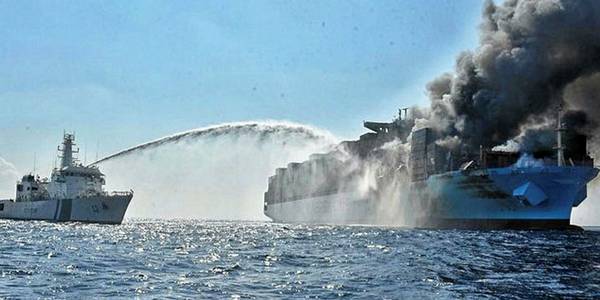 Maersk Line has confirmed plans to rebuild the Maersk Honam in South Korea. In an emailed statement on Monday, Maersk revealed that a portion of the vessel will be transported by heavy-lift vessel to Hyundai Heavy Industries where it will be rebuilt. The transport of the vessel will take place in February 2019.
The vessel has now been cut into two parts at the Drydock World Dubai (UAE).
According to Maersk, the 228.5-meter-long sound section, from midship to stern, will be transported aboard the heavy-lift vessel Xin Guan Hua to South Korea. 
It is expected to deliver the section at Hyundai Heavy Industries Shipyard in March 2019, the same yard the vessel was built in, where it will be rebuilt with a new forward section.
The former forward section, which includes the accommodation block, will be safely moored at Drydock World Dubai for continued removal of damaged containers and debris. 
Once cleaned, it will be recycled, Maersk said. The company added relevant recycling options are currently being investigated and evaluated.
The 353-meter Maersk Honam, an ultra-large container ship (ULCS), suffered a major fire on March 6, 2017 in the Arabian Sea en route to the Mediterranean Sea, claiming the lives of five crew members.
According to Maersk, the ship was carrying a total of 7,860 containers, corresponding to 12,416 twenty-foot equivalent units, when it caught fire. All cargo in the ship's forward holds were declared a total loss, but containers aft of the ship's superstructure went largely undamaged.
Maersk Honam was moved alongside for thorough inspections and discharge operations in the Jebel Ali Port (UAE) in June 2018. "Maersk worked closely with the local authorities, insurance companies, the salvage company and other stakeholders to prepare a safe and environmentally friendly plan for clearing the vessel of all damaged containers, debris and firefighting water," Maersk said in its update Monday.
The Singapore-flagged Maersk Honam was delivered in 2017 by Hyundai Heavy Industries. It has a nominal capacity of 15,262 TEU (twenty-foot equivalent unit).
The rebuilt vessel is expected to resume service again in the second half of 2019.
The heavy-lift vessel Xin Guan Hua has an overall length of 255 meters and can load up to 25 tons/m² on the main deck.  
Copyright Ships & Ports Ltd. Permission to use quotations from this article is granted subject to appropriate credit given to www.shipsandports.com.ng as the source.