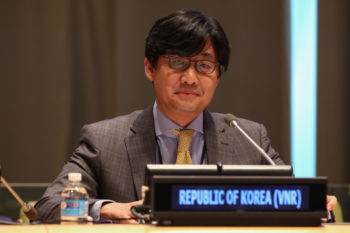 South Korea says the volume of trade between it and Nigeria has dropped from $4.5bn about (N1.42tn) in 2014 to $1.8bn about (N567.5bn) in 2015. This represents a 60% drop over one year.
The Korean Deputy Minister for Multilateral and Global Affairs, Jongmoon Choi said this in Abuja at the end of a bilateral meeting between both countries.
Nigeria and South Korea expressed worry over the decrease of $2.7bn in the volume of trade between the two countries.
He said, "The trade volume between the two countries was about $4bn in 2013, and in 2014 it was about $4.5bn.
"This was higher, but unfortunately our trade volume has slid back a bit, which is of concerns to us," he said.
Choi said that there was the need to revitalise the volume of trade, adding that the sharp drop was due to some factors.
The envoy listed some of the factors to include the loss of investors' confidence in doing business in Nigeria.
He, however, pledged his country's determination to increase its investment in Nigeria, which he said stood at about $500m.
"When it comes to investment, it is more important than trade because together we do investment from South Korea to Nigeria.
"So, together we bring in technology and managerial skills and most importantly, hard working experience, the total amount of our investment stands at about $500m, this is a bit low.
"So we are taking the time to regenerate the momentum to boost our economic relations."
Choi said that his country had planned to increase its Official Development Assistance (ODA) to Africa, adding that Nigeria had a sizeable amount of ODA released to the continent earlier.
The minister expressed pleasure over the resolution by the Federal Government to address the challenge of double taxation on investments in Nigeria.
Earlier, the Permanent Secretary, Ministry of Foreign Affairs, Amb.Olushola Enikaolaye said the two countries had a good relationship.
"Our relationship has been very good, we have seen it blossom, South Korea remains strategic partner within the auspices of our international relations," he said.
He called on the government of South Korea to support Nigeria in its efforts to diversify its economy from oil to other sectors such as agriculture to address the challenge of food security.
Copyright Ships & Ports Ltd. Permission to use quotations from this article is granted subject to appropriate credit given to www.shipsandports.com.ng as the source.