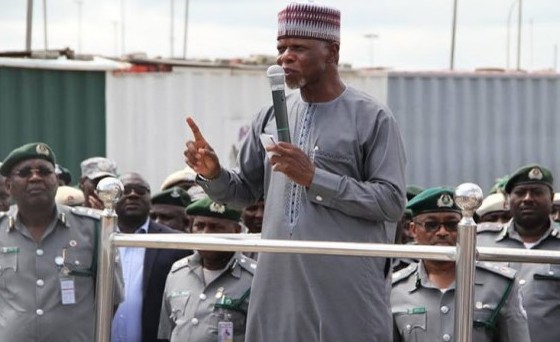 Clearing agents operating at the Tin Can Island Port have raised alarm over the introduction of an alleged new valuation system which has led to the imposition of "benchmark values" on general cargoes coming into the country through the port by the Tin Can Command of the Nigeria Customs Service.
The new benchmark system imposes N600,000 as the minimum Customs import duty on a 20ft container and N1.2 million on a 40ft container irrespective of the value of the cargo in the container. 
Some of the clearing agents, who spoke with newsmen in Lagos on Wednesday, accused the Controller of the command, Musa Baba of introducing the benchmark in contravention of the regulation guiding Customs valuation.
The agents accused Customs officials of being in the habit of devising devious means of generating revenue towards the end of the year, as a means of meeting their revenue target. 
They threatened to divert cargoes from the Tin Can Island Port and take other steps to protest the new policy, which they describe as exploitative. 
An executive of one of the freight forwarding associations at the command, Lasisi Ahmed, said, "The Controller has said that the Assistant Controllers who released goods are the ones that would use their own money to pay the difference (if the new is not applied). What this benchmark means is that officers can now begin to use their discretion and jerk up value on imports."
When contacted, Public Relations Officer of the Tin Can Island Command, Uche Ejesieme, said the command has not introduced any benchmark on general goods but a Standard Operating Procedure (SOP) to block revenue leakage and encourage compliance with international best practice.
He said, "I would like to reaffirm that the Tin Can Island Command has not and cannot introduce benchmarking, as it has no route either in tariff, rules of origin which is a determinant factor in valuation of goods.
"What the stakeholders are referring to as benchmarking is a misinterpretation of concept. As a way of trying to make sure that we strengthen our activities and Standard Operating Procedure, we told officers that the least (import duty) agents can pay on a 20ft container should not be less than N600,000 because no matter what you bring from any part of the world, and you want to pay duty, if you check the Cost, Insurance and Freight, it can never be less than 600,000. It is just a standard to guide everybody.
"There are also some consignments of a 20ft container that can pay N50 million, so it is not as if we are giving a blanket rate on anything. There can't be uniformity of value analysis even on homogenous goods. 
"Customs does not fix prices, values or taxes on items. What we do is only interpret the H.S Code in line with World Customs Organization (WCO) standard as no country can unilaterally adjust any tariff for whatever reason," Ejesieme told SHIPS & PORTS DAILY.