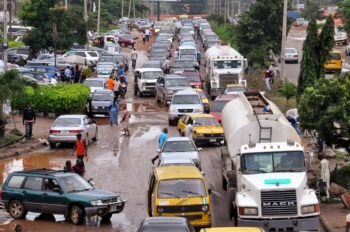 By Bolaj Akinola
I did not for the life of me think I would ever have cause to ride on an okada again. I resolved almost ten years ago to have absolutely nothing to do again with the contraption. I was on my way to the Lagos airport from Apapa to catch a 5pm flight to Abuja that fateful Thursday afternoon sometimes in November 2007. I had a meeting at 8pm in Abuja. We left Apapa at about 3pm hoping to be at the airport in an hour, leaving enough time for check-in formalities and the rest.
We took off at Burma Road and in a few minutes, we were at Tin Can first gate. A few more minutes, we got to Coconut but then, we met this heavy traffic. Our car was at a standstill for more than 45 minutes.
Not wanting to miss my flight, I left the car and instructed the driver to find his way home. I hailed an okada. The rider slammed some outrageous bill on me but I was not in any mood for argument. In my full two-piece suit with a nice hand luggage, I climbed the bike.
"Let's go. I have to be at the airport in 15 minutes but make you no run o," I said.
"Ok sir," he replied, but the events of the next few minutes showed that he either did not understand what I said or he clearly decided to ignore my instruction. I held my breath as he fired on.
I don't remember exactly how it happened but as we approached Airport Road, this guy lost control. I found myself – white shirt, red tie, two-piece grey suit, luggage et al – in a puddle of brown water. Stinking brown water. I was speechless. And stinking!
I managed to get up. Someone brought sachet water. It was of little use. In my stench and drench, I got another bike to take me to the airport. I still paid the guy who messed me up his full fare.That fateful day was the day I called it quits with okay.
I had remained committed to my divorce from the horrible contraption, which sadly has become a mode of mass transit only in backward and poverty-ridden countries like Nigeria. So when penultimate Tuesday a couple of colleagues and I were to attend a meeting at the NIMASA Resource Centre in Kirikiri, knowing the state of the road, we left the office in good time but alas, we got stuck in front of Tin Can Island Port. It was a standstill. I hate getting to meetings late! My colleagues and I therefore decided to 'bike it'. We abandoned the comfort of our car and within minutes, all three of us, corporately dressed, were "flying" on the wrong side of the road – the right side having been blocked by tankers and trailers.
"O boy take am easy, stop running. You're running too much. You no dey fear?"
"Oga I no be big man, wetin I dey fear. If I die I die."
"Well if you wan die abeg no take me along. Me I no wan die yet."
"Na so. Big man, big fear. No be una spoil Nigeria finish? See road everywhere spoil finish motor no fit pass. No road, no money, no food, no light. Una spoil Nigeria finish."
"O boy take am easy. See as you dey pass between trailers anyhow. Look make you no hit my head for iron o."
"Oga you for take car. Why you carry okay sef."
"You think say I happy to enter okada? Na go slow cause am." (Cough from choking dust).
"Na you big men spoil Nigeria finish. See the road spoil finish from Apapa to Oshodi. Motor no fit pass again. Na only okada. This road don spoil for 15 years, una no repair am. That's why you sef dey suffer am now."
"Am I government? Why you dey talk to me like say na me be Minister of Road for Nigeria? No be your brother be President?"
"All of una is the same oga. Big man na big man. You go your office now put aircon for head, your head go cool. I sure say tomorrow you no go come this road again. But we dey for here everyday inside sun or inside rain. Big men no care for us. We dey suffer but una no care. See this road for over 15 years e don spoil but nobody care to repair am. We finish work go house no water, no light, no food, so wetin be the benefit?'
"O'boy I beg take am easy I no wan fall die for this your okada. Stop running." (The choking dust again).
At last we arrived in one piece.
"How much be your money?"
"N500."
"I think say na N200."
"Big man price na N500."
"You're a ver funny chap."
I handed him N1,000 note expecting change, but the guy zoomed off.
"Thank you oga. God bless you," he shouted as sped out of reach.
Suffer dey Naija no be small.
Copyright Ships & Ports Ltd. Permission to use quotations from this article is granted subject to appropriate credit given to www.shipsandports.com.ng as the source.